Latest posts by Beerguyrob
(see all)
Of course, we can have a DFO Futbol Semana de Odio in advance of our World Cup previews in May.
NFL Notes: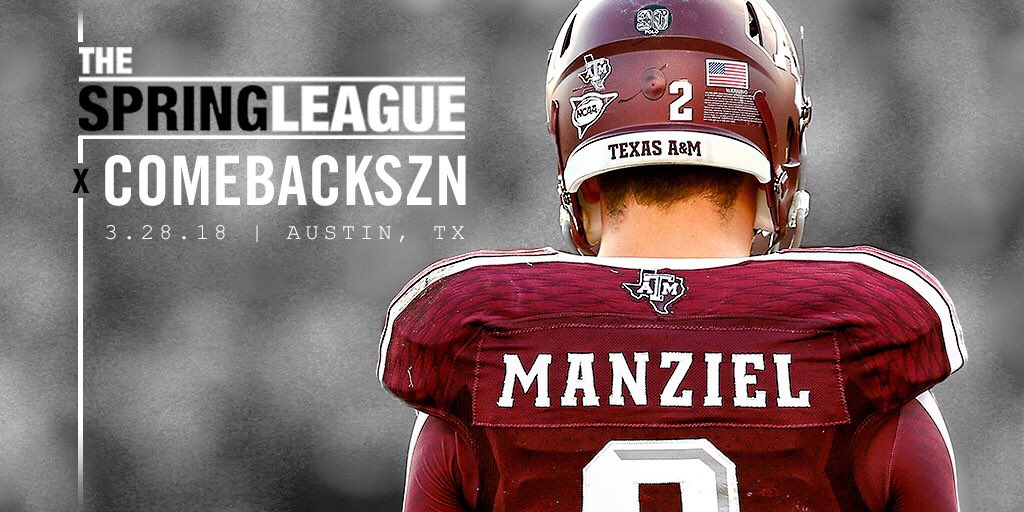 In what reads like a note from a stroked-out Grandpa, Johnny Manziel has started his "Comebackszn".

He will be playing in the new-ish Spring League, which is a thing the NFL & CFL started that runs out of Austin.

It has four teams, runs joint practices, and is designed as a developmental league for undrafted or sidelined players. Its season runs from March 28 to April 15.
Speaking of strokes, someone check on John Elway.

The Broncos are looking at signing A.J. McCarron if he becomes an UFA.
Remember the Jags fans who threw shit at the Seahawks when they were leaving the field? Well, two of them were identified & have been "banned indefinitely" from Jags games.

Prior to last season, that wouldn't even have been considered a punishment.
In what sounds like a component of their new Thursday Night package, FOX will broadcast the opening nights of the NFL Draft.

This raises speculation that the NFL might add more bells & whistles to the production.
Finally, a little "Stealing From Crimebeat!" legal coverage:
the lawsuit against the Giants over fake memorabilia continues apace, with the Giants requesting summary judgement in their favour.

The plaintiffs allege the Giants engaged in fraud by purposing non-gameday articles as authentic gameday merchandise, and sold it as such, creating material benefit for them & exposing the purchasers/resellers to liability if the goods were, in fact, found to be frauds
The Giants want summary judgement because they allege the plaintiffs haven't proven a thing despite 18 months of discovery.

Colin Kaepernick's lawyers want to depose Papa John in Kaep's collusion trial against the NFL.

It's a result of the comments he made about ratings hurting his pizza sales, and that he wanted the league to do something about it.

Specifically, they want to know if Papa John spoke or worked with Jerry Jones on countering or toning down the player protests immediately after his comments.

Kaep is also suing certain agents, who his legal team believes prevented him from receiving valid employment opportunities as a result of not wanting to offend owners who were vehemently against the players' actions.
---
Tonight's sports:
Olympics:

NBCSN

7:00PM – Pairs free skate (long program)
10:00PM – Hockey (Women's Group A): U.S. vs. Canada

NBC | 8:00PM – Figure Skating, Alpine Skiing, Skeleton, Speed Skating
CNBC | 10:00PM | Hockey (Men's Group C): Finland vs. Germany
CBC | 8:00PM – Figure Skating, Alpine Skiing, Skeleton, Speed Skating
TSN:

7:45PM –  Women's Giant Slalom and Men's Downhill
8:25PM – Pairs free skate (long program)
12:00AM – Men's Curling Round Robin: Canada vs. Norway
12:00AM – Hockey: Norway vs. Sweden

Sportsnet1 | 11:30PM – Men's Snowboard Cross
---
NHL:

Blue Jackets at Leafs – 7:00PM | Sportsnet / NHLN
Panthers at Canucks – 10:00PM | Sportsnet

NBA:

Clippers at Celtics – 8:00PM | ESPN
Raptors at Bulls – 8:00PM | Sportsnet1
Warriors at Trail Blazers – 10:30PM | ESPN

NCAA:

Villanova at Providence – 7:00PM | FS1
Virginia Tech at Duke – 7:00PM | ESPN2
Kentucky at Auburn – 9:00PM | ESPN2
Seton Hall at Xavier – 9:00PM | FS1
It's going to be extra sad once the Olympics are done. They've been a welcome distraction from the end of the NFL season. DON'T FORCE ME TO WATCH THE CANUCKS!