Latest posts by Beerguyrob
(see all)
NFL News:
ARE YOU READY FOR A….grievance hearing?

The NFLPA has filed an official grievance against the NFL over the new anthem policy.

They will start with arbitration before proceeding to a court case (if necessary).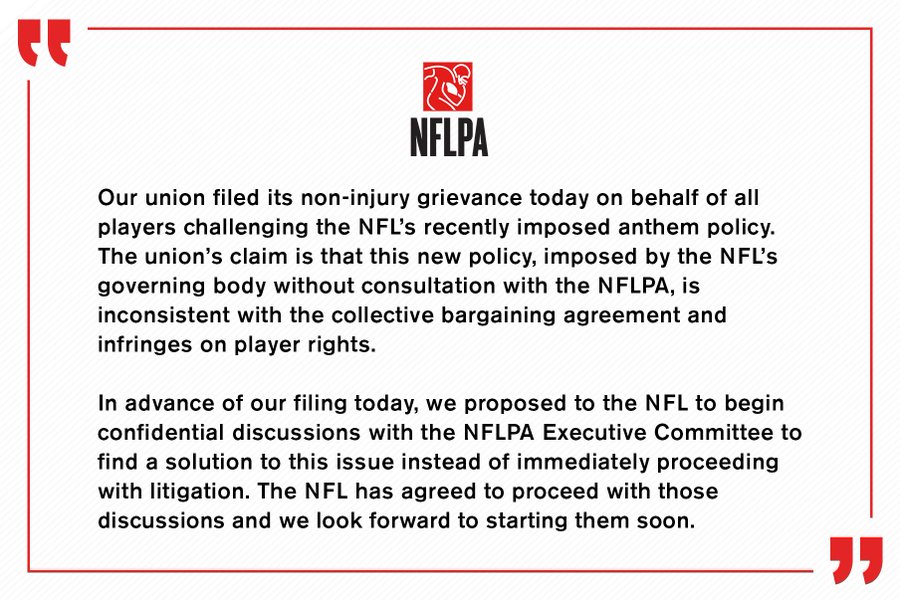 Sure to help things is Michael Bidwill going on the radio to pump up his old prep school buddy, new Supreme Court nominee Brent Kavanaugh.

Bidwill, seen right attempting to count to 10 whilst holding in a fart, appears to be trying to curry league favour with America's current demagogue president.
I guess we're not leaving sports and politics alone after all? ??‍♂️ https://t.co/axrmyMXqs6

— shannon sharpe (@ShannonSharpe) July 10, 2018
In a story that sounds like a Friends/Big Bang Theory mashup episode, Giants tackle AJ Francis suffered the indignity of the TSA spilling his mom's ashes inside the suitcase he was bringing her home in.
When the TSA offered an apology online, Francis assured himself future airport scrutiny with the response:
Under all circumstances fuck yourself https://t.co/afrC9YuNWQ

— FRAN¢ (@AJFrancis410) July 9, 2018
Finally, it's been a strange day following the Shady McCoy allegations.
The Buffalo Bills are aware of the LeSean McCoy allegations, told it is being looked into per sources

— Dianna Russini (@diannaESPN) July 10, 2018
— Lesean McCoy (@CutonDime25) July 10, 2018
As of this moment they are just allegations, so Roger Goodell is left to just write the number "6" on a notepad in his office. But that didn't stop the assholes from chiming in:
Story seems sketchy seeing how the Bills cant beat anyone.

— Larry Wade (@Thatguysnow404) July 10, 2018
---
Tonight's sports:
MLB:

Blue Jays at Braves – 7:30PM | Sportsnet
Royals at Twins – 8:00PM | FS1

NBA Summer League Basketball:

Kings vs. Grizzlies – 6:30PM | ESPN2
Lakers vs. Knicks – 8:30PM | ESPN2

WWE:

Smackdown – 8:00PM | USA / Sportsnet360
Remember – close your eyes
WE'RE JUST A DROP OF WATER IN AN ENDLESS SEA!