I asked in the DFO clubhouse if anyone did New Year's Resolutions. The response was basically the banner image.
Some choice comments:
King Hippo: I made a New Year's Resolution to stop making New Year's Resolutions about 10 years ago. And it stuck! Fuck yo' social rituals of illusory self-improvement.
BFC: New Year's Resolutions are bullshit.
Yeah Right: My resolution to have my knee and shoulder joints stop hurting is bullshit. Fuck it man I'm gonna just smoke dope and keep on walking.
We did, however, get one positive response:
Low Commander: My resolution continues to be not to murder anyone. Mostly because I have an addictive personality.
Given that I successfully completed the Little Drummer Boy Challenge put on by Señor Weaselo and I previously successfully ignored the No-Fap November Challenge, I feel confident in issuing a New Year's Resolution Challenge to you all.
But first let me take you back a few years…
In the 1990s, Younger Balls had a group of close friends. It wasn't a posse.
It certainly wasn't a gang.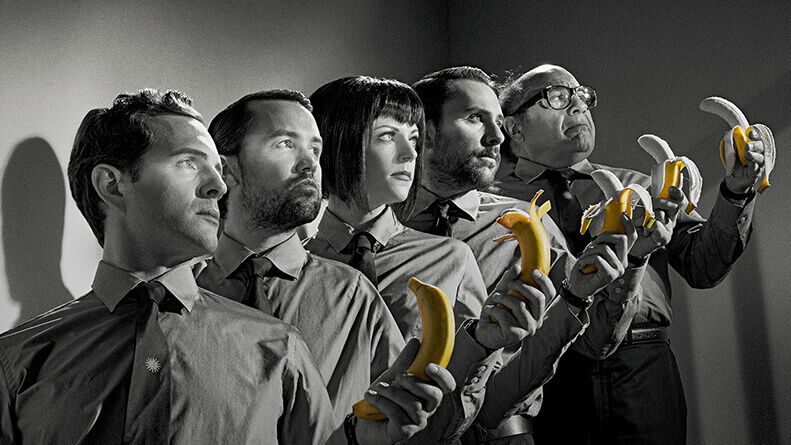 And for sure it wasn't a band of brothers
Every January, we would get together at a bar and write out personal goals for the year. We would keep track throughout the year and, at the next year's meetup, the person who achieved the least amount of goals would buy all the drinks.
It was a pretty fun way to improve ourselves and we actively encouraged each other to achieve our goals.
I miss that.
My friends have pretty much all left LA and the tradition is no more. However, I still want to do things every year to make myself a better person.
This is where you come in. I challenge all of you to pick five goals for yourselves this year. It can be anything you want as long as it's something SMART (Specific, Measurable, Achievable, Relevant to your interests, and Time-Bound).
The Time-Bound part is easy. You have until the end of 2019 to achieve your goal. That's set the same for everyone. The rest is up to you.
I will list here my five goals and will report on progress throughout the year. But first, I want to offer you some helpful suggestions as to what goals you can possibly achieve:
From the 2019 Sexual Resolutions article in the Liberator website:
More Quickies
Focus on Your Partner
Ask for More
Learn Something New
Masturbate More!
One of my favourite goals in the past was to read a certain number of books. I know that's difficult a lot of times, but it's a worthwhile pursuit. I also know that BFC may be writing a DFO Book Recommendations post in the near future that will help you out.
Fitness goals are always popular as it seems everyone decides to join a gym in January and then forgets they have membership cards in February. If you set goals that are Measurable, like being able to lift/run/walk a certain weight/time/distance, it will be easy to track your progress. Examples:
Participate in a 5K race and finish without dying.
Finish a 5K in less than an hour.
Lift your weight on the bench press
Back in those days, we were all single, so many of our goals were related to finding the right girl. If she couldn't be Mrs. Right, she could at least be Miss Summer Fling, Miss Crazy Weekend, or Miss What The Hell Did I Drink Last Night?
The goals themselves weren't as crass as "bang a hot babe". It was more of making a concerted effort to meet new interesting people that might develop into something. A lot of times, when you're single, putting yourself out there seems daunting and scary. Having your friends support you and encourage you in this area helped make the process better, which made the chances of success higher.
Lastly, there were always goals about becoming a better person, but I tend to think like Calvin in the banner image in this area. Or, better yet, like Gene:
So, here are my five goals for the year:
Have a body fat percentage in the teens. (currently 25%)
Travel somewhere outside the continental US. (haven't since April 2017)
Write at least 69 posts for DFO. (this one counts as #3 so far!)
Do one thing sexually with a partner that I've never done before. (I'm hoping for pompoir, but we'll see if that works out.)
Host a dinner party where I've cooked all the food from scratch. At least four courses (soup, appetizer, main, dessert).
What say you, Commentist Party? Will you join me and create five goals of your own? Feel free to list them in the comments and we can all refer back to this post next year to see how we did.
All Commentists that achieve zero goals must buy the alcohol at the next DFO Con.
International Member of the Geelong Cats and recovering Steelers fan. Likes Butts. And Balls. And Boobs. Pretty much anything that starts with the letter B. Preferably together.
Latest posts by ballsofsteelandfury (see all)