Latest posts by Senor Weaselo
(see all)
Welcome to the final Rolldown of Marble League 2020! At this point we know what's at stake. So let's get to it.
Believe it or not, this is not an outdoor course! Call me surprised, as I was expecting the longest sand rally course yet, or road course, or something along those lines. No, instead we get the longest lap race we've ever had, 33 laps at Stardust Accelerator. I am not sure if this is Team Galactic's potential Marbula One track or King Stardust's personal track, but I assume we may find that out in the potential fall season of Marbula One. Here's the layout of the track: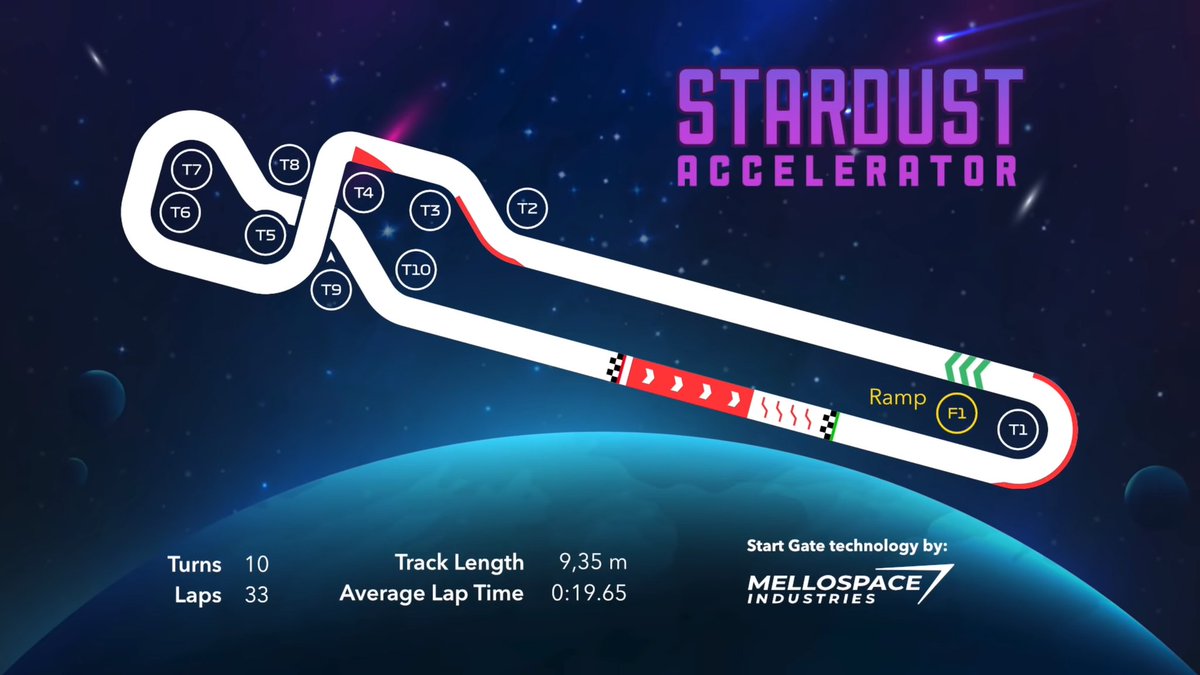 Just as surprising, placement at the start of the race will be determined by a shorter 5-lap race, and initial placement on that grid will be determined by reverse standings in the Marble League, as in, Mellow Yellow starts the qualifier in 1st down to the Savage Speeders in 16th.
Got all that? I know, it's a bit confusing. I personally think the JMRC could've just made it a single 38 or 40, for round numbers, lap race with the reverse grid from the qualifier or just the current standings grid, or better yet, a 45 or 46-lap race. (Why 45 or 46, you ask? Because a human marathon comes out to 42,195 meters. Obviously you can't have that, but you can have a hundredth of that distance, 421.95 meters, which on this track comes out to about 45.1 laps. So one full lap for the remainder.) We work with what we have though, and that is this two-leg style.
Marathon Placement Race
Row 1: Yellup (Mellow Yellow)/Tumult (Balls of Chaos)
Row 2: Hive (Hornets)/Bumble (Bumblebees)
Row 3: Mallard (Green Ducks)/Shock (Thunderbolts)
Row 4: Ocean (Oceanics)/Mimo (Team Momo)
Row 5: Rezzy (Raspberry Racers)/Starry (Team Galactic)
Row 6: Hazy (Hazers)/Red Eye (Crazy Cat's Eyes)
Row 7: Minty Fresh (Minty Maniacs)/Wospy (Midnight Wisps)
Row 8: Kinnowin (O'rangers)/Speedy (Savage Speeders)
I'd say a big strategic surprise is the captain, Kinnowin, stepping up for the O'rangers. Yes, most of the time the captain goes in the final race when a championship hangs in the balance, but it was Orangin and Clementin running in Marbula One with Orangin 5th in the driver's standings thanks to a win at Greenstone and a 2nd at the Razzway. In the reverse situation, even though Midnight Wisps captain Wispy did race in Marbula One, teammate Wospy got more points over the season and got the nod. For the Savage Speeders, it is their captain and their ace, and the reigning Marbula One individual champion, so it's all one and the same.
After a clean start the first lap is usually a scramble. It's also a fairly short lap, about 15 seconds for the leader, Ocean. However, Red Eye was stuck at Turn 8. It was a local yellow, as they'd see if a safety marble was necessary. It was not as the leaders were able to collect him towards the end of lap 2 and get him rolling, however you'd have to imagine that's a back of the pack 16th for the Crazy Cat's Eyes, as Shock held the lead through the end of Lap 2. Red Eye would cause a bit of chaos in the frontpack, as Ocean and Yellup were battling for 2nd around Red Eye while Shock was able to run in cleaner air. However it didn't help too much as Ocean got right behind Shock as the two battled for pole, the lap down Red Eye ahead of Yellup. Ocean would actually pass by the end of Lap 4 and be able to hold on and take pole ahead of, surprise, Speedy, who had been slowly and methodically working his way up the ranks.
After the race the coaches of the 16 teams got together and unanimously awarded the Crazy Cat's Eyes their corresponding Marble League rank to begin the marathon. They would start in 5th. Of course it might not mean much in the lengthy race, but it's a nice show of sportsmanship. So with that the grid for the race was determined.
Marathon Race
Row 1: Ocean/Speedy
Row 2: Shock/Yellup
Row 3: Red Eye/Mallard
Row 4: Hive/Tumult
Row 5: Mimo/Rezzy
Row 6: Bumble/Starry
Row 7: Wospy/Hazy
Row 8: Kinnowin/Minty Fresh
Good grid position for the Savage Speeders on the front row, seeing their two rivals for the championship were at the back. Plus, again, Speedy won the drivers' championship with a moment like this, closing the season out with a win at Midnight Bay to win it for the Speeders and for himself.
With Greg Woods's call, "And they are rolling!" they were off, 33 laps with the championship at stake. Your highlights:
Lap 1: Ocean maintained the lead through the opening turn before hitting the attenuator on the back straight before Turn 2. This would give the lead to Yellup, with Ocean falling back to 2nd. The midfield, slightly more out of focus, had the majority of the movement but with all that activity it is admittedly really hard to call it all. All things considered, it's impressive that Woods basically does things in one take on the call, in case you were wondering. Across the line it was Yellup in the lead, followed by Shock and Ocean. Championship contenders: Wospy in 5th,  Speedy had fallen all the way down to 13th, but Kinnowin was in 14th.
Lap 2: Bumble had joined the front group after starting in 11th and more importantly Wospy was closing the gap position-wise. Yellup maintained the lead and was lengthening it through the lap, so a second lap with Mellow Yellow leading, with Ocean in 2nd, Tumult in 3rd, Wospy in 4th. Kinnowin was up to 10th but that wasn't enough at the moment as Speedy was close enough back in 12th.
Lap 5: Yellup was maintaining a nice-sized gap in first. In championship matters, Wospy used the ramp to go from 5th to 2nd by the back straight. This was important too because Minty Fresh, starting from the back, had moved to the front pack and there are still podium permutations where the Wisps can miss the podium to the Minty Maniacs. Obviously if Wospy was in front that wouldn't happen. That was your top three through the lap—Yellup, Wospy, and Minty Fresh. With Kinnowin in 13th and Speedy in 15th, if current standings held the Wisps, after not holding a lead at any point, would win the Marble League, thanks to the graphic showing at the beginning of Lap 6. Of course, it was VERY early on.
Lap 9: Not much going on in the top 2 as Yellup maintained a lead over Wospy, but you had a bit of a train from Minty Fresh in 3rd on down that had been going on for a couple of laps, and it wasn't until Mallard came in to challenge that that train was anywhere near threatened. As they battled Red Eye in 5th was in range to join the scrum as well.
Laps 10–11: Finally an overtake at the top! Wospy was dead even with Yellup at the conveyor belt and got the better run for 1st. At this point it was Speedy in 12th and Kinnowin in 13th so it would be enough. And Wospy held the lead the entire lap, but hit the last turn weird, hobbled over the line, and Yellup was even again by the conveyor belt, retaking the lead by Turn 1. Not only that but that bump at the end of the previous lap really hurt Wospy who was under fire by Minty Fresh, who overtook the Wisps' runner by the end of Lap 11. Even with Speedy in 13th and Kinnowin in 14th, if the race ended at Lap 11 it would be the Savage Speeders taking the title.
Lap 14: Wospy was under more fire, fighting off a charge from Red Eye but unable to fight off Bumble, who now took 3rd. Yellup was stretching his lead over Minty Fresh and the field, and even though through the first third of this race it seemed like the Wisps' title to lose, it was doing just that, slipping away. At this point they had to be careful to not lose out on the podium—with Minty Fresh in 2nd and Wospy in 4th they were safe, for now.
Lap 16: After holding close to a 2 second lead, Yellup was being whittled away at, and finally Minty Fresh charged at the back straight, getting a bigger burst of speed and seeing Yellup out of sorts, close to the attenuator. With the Wisps dropping into 4th if this held for the remainder of this lap and then the remainder of the race it wouldn't only be enough to get the Minty Maniacs on the podium, but with Kinnowin in 15th they could even move up into 2nd.
Laps 18–20: After letting Minty Fresh hold onto the lead Yellup was right back on the tail, looking for a way around. It was a nice block by Minty Fresh through the turns before Yellup hit the last turn wrong, slowing down to the lead. For now Minty Fresh was safe, but it was just through Turn 1 as Yellup picked up a burst of speed at the ramp and it was Minty Fresh being slowed down by the track narrowing attenuator this time, and Yellup just flew right past. Meanwhile the battle for 3rd was heating up as approaching the conveyor belt for Lap 20 it was Ocean, Wospy, and Bumble all within a rung of each other. Bumble took both of them for 3rd, with Ocean in 4th and Wospy continuing to drop down the order, now in 5th. Speedy was in 11th and Kinnowin in 14th meaning the Speeders were still in business.
The battle for the lead was still ongoing, to the point that this block is three laps and a second paragraph long. This time Minty Fresh got the move done at Turn 4, going around the outside. An absolutely beautiful pass by Minty Fresh, and with enough space to potentially have some breathing room for a few laps.
Lap 21: Kinnowin was finally making a move, passing Speedy who had dropped back at Turn 1 for 11th, then passing Starry by the end of the lap for 10th. Speedy remained in 13th and it wasn't yet enough for the O'rangers, but it was a start. If Speedy was in 13th then 8th would be the O'rangers captain's minimum goal.
Lap 23: Wospy went for a pass, trying to take 3rd from Bumble. Not only could he not get the pass but it slowed him down enough that Tumult passed him for 4th. Wospy in 5th, combined with Minty Fresh in the lead, meant if this held for another 10 laps the Wisps would be off the podium for the Minty Maniacs. In the midfield, Speedy had caught back up to Kinnowin and was back to one position behind, the O'rangers captain in 10th, the Speeders captain in 11th. With 10 laps to go it was the Savage Speeders on track to win the Marble League.
Lap 25: Somewhere in Lap 24 Minty Fresh's lead over the field nearly doubled from almost 2 seconds to closer to 3 1/2. So barring that, it looked like Yellup and Bumble were battling for 2nd. Of course either and/or both would be okay with medals as neither Mellow Yellow nor the Bumblebees have had campaigns they'd want to remember. The two were battling, using the whole track, maybe a little more considering the curbs. It wasn't quite enough as even though Bumble took the lead Yellup took it right back.
Through 25 laps the podium looked Savage Speeders–Orangers–Minty Maniacs. 8 laps left!
Lap 27: Through the end of Lap 26 Yellup hit the last turn weird (I've said that a fair few times) and that gave Bumble the time to catch back up, with Red Eye joining. Bumble took 2nd off the conveyor belt and built a small gap, giving Red Eye and Yellup 3rd to battle over. By the way, right behind them Tumult and Wospy were battling for 5th—Wospy was repelled, fell back, and was in danger of losing another position as Ocean was now on his tail. Speedy had also now moved in front of Kinnowin for 10th, and it looked like nobody was going to catch Minty Fresh short of making up over half a second per lap.
Lap 28: We move to the midpack as Hazy overtook Kinnowin for 11th. Considering the late stage of the race, the last thing Kinnowin needed is someone between him and Speedy considering he needs to be ahead of the Savage Speeders captain by several spots to win the Marble League for the O'rangers.
Laps 29–31: Yellup continued to turn back all comers for P2. This time it was Red Eye, overtaking in one section but then giving it right back to the Mellow Yellow captain. A medal here would be crucial for Mellow Yellow in keeping them out of the basement. Going into Lap 31 they were even on the conveyor belt but a stronger push by Red Eye gave him the position and Yellup fought with Bumble for 3rd.
Quote of the night: "Team Galactic, our hosts, up into 5th place, a place they know well." I'd say they broke the host's curse, but on the other hand they were always the bridesmaid this Marble League.
Lap 33–FINAL LAP: A drama-free last few laps for Minty Fresh since nobody was near her and they all were fighting for the rest of the podium. It would be one more gold for the Minty Maniacs, coming out of retirement to take the most gold of anyone in Marble League 2020! With Wospy continuing to fall, finishing in 8th, the Minty Maniacs would also manage to make the podium. And combined with her victory in the 5 meter sprint, she would become the second double-gold individual marble in history, and with 60 points combined in her individual/duo events, would score the most points of any individual marble in history.
Meanwhile, in 9th was Speedy, and that would be enough. Kinnowin finished behind him in 11th, meaning for the second time, and for the first time since the inaugural competition…
The Savage Speeders are Marble League Champions!
This event's podium:
Podium
Gold: Minty Fresh, Minty Maniacs
Silver: Yellup, Mellow Yellow
Bronze: Red Eye, Crazy Cat's Eyes
The Minty Maniacs would have one last $5,000 donation made in their name, this time to the West Seattle Food Bank.
Rest of order
Starry (GAL), Bumble (BUM), Tumult (BOC), Ocean (OCE), Wospy (MNW), Speedy (SAV), Mimo (MOM), Kinnowin (ORA), Hazy (HAZ), Mallard (GDK), Hive (HOR), Shock (TBO), Rezzy (RSP)
Your final standings…
For their championship victory a $20,000 donation was made in the Savage Speeders' name to the International Rescue Committee. And with that, the closing ceremonies, showing each team enter the Andromedome one last time, in reverse standings order. Let's talk about them.
16th: Hornets (Stinger-C, Wasp, Vespa, Hive, Yellowjacket-R; Swarm-coach) (No medals) 86 pts
A tough rookie year with the big boys. Last in Marbula One, last in the Marble League. It reminds you how difficult it is and that what the Green Ducks did last year isn't common. With a year under their belts we'll see if they can sophomore soar, or if they'll be Showdown bound.
15th: Balls of Chaos (Anarchy-C, Tumult, Clutter, Snarl, Anarchy-R; Harmony-coach) (1 silver) 92 pts
It started off so promising, with a 4th, 5th, and silver in the first five events. Then the bottom kinda fell out. Sorry, Ballsy, you were right.
14th: Mellow Yellow (Yellow-C, Yelley, Yellah, Yellup, Yellim-R; Mellow-coach) (1 silver 2 bronze) 94 pts
The silver kept them out of the basement, though they do have to watch out for the 14th Place Curse, a phenomenon where no team to finish in 14th one year seems to qualify the next. And Mellow Yellow has qualified every year, so something's gotta give.
13th: Thunderbolts (Thunder-C, Lightning, Bolt, Shock, Zap-R; Thunderstorm-coach) (1 silver) 99 pts
Rough year for the Thunderbolts, no way around it. The silver in the collision helps matters a bit as one medal is better than none. But they'll have some work to do to, like Mellow Yellow, avoid missing out on qualification for the first time.
12th: Green Ducks (Mallard-C, Billy, Quacky, Ducky, Goose-R; Bombay-coach) (No medals) 101 pts
Not so easy, apparently. The Green Ducks have to be disappointed by the result, one of only two teams to not medal, though at least the higher of the two. They had two 4th places, which is some unluckiness. The sophomore slump hit hard.
11th: Bumblebees (Bumble-C, Bea, Honey, Swax, Bomble-R; Queen-coach) (1 silver) 106 pts
Well, they beat their rivals, the Hornets. Again, a tough rookie year, but that silver in the high jump will stay with them as their one shining moment. No we're not playing that.
10th: Oceanics (Ocean-C, Shore, Sea, Aqua, Bay-R; Lagoon-coach) (1 gold 1 silver 1 bronze) 133 pts
That's better. Anything is better than last year's debacle, but tied for 9th in points (losing out on the tiebreaker) and three medals is huge for this team.
9th: Raspberry Racers (Razzy-C, Rezzy, Rizzy, Rozzy, Ruzzy-R; Berry-coach) (1 gold 1 silver 1 bronze) 133 pts
They win out for 9th on the strength of their two 4th place finishes. Can't say it's a successful title defense, missing out on the top half, but Ruzzy stepping in to win gold for captain Razzy in the hurdles will stick out for everyone as their signature moment.
8th: Team Momo (Momomomo-C, Mo, Momo, Momomo, Mimo-R; Momomomomo-coach) (2 silver) 135 pts
They had seven events scoring 10 or more points, which would be top 6, paced by back to back silver medals. I'd say after missing out last year Team Momo would be very happy with a top half finish. I know I am.
7th: Team Galactic (Cosmo-C, Starry, Astron, Pulsar, Quasar-R; Black Hole-coach) (1 silver) 147 pts
Well, on one hand the hosts had a top half finish. On the other, one medal, with six, yes, SIX 5th places, and two 4th places including the marathon. Consistency is key, but if half of those 4ths and 5ths are medals they threaten the podium. What could have been.
6th: Hazers (Hazy-C, Foggy, Smoggy, Misty, Cloudy-R; Smoky-coach) (1 gold 1 silver 1 bronze) 147 pts
A strong job by the Hazers even if it isn't a return to the podium like last year. They showed off their water prowess however and have to be considered one of, if not the, top team in the pool.
5th: Crazy Cat's Eyes (Red Eye-C, Blue Eye, Yellow Eye, Green Eye, Cyan Eye-R; White Eye-coach) (1 gold 1 silver 2 bronze) 160 pts
The best campaign yet for the Cat's Eyes. They were consistent and in the hunt for much of the competition, and there might be big expectations for them next year.
4th: Midnight Wisps (Wispy-C, Wespy, Wospy, Wuspy, Waspy-R; Wyspy-coach) (2 gold 2 silver 1 bronze) 187 pts
They almost did it again like in 2018. Sneak under the radar for the whole competition and then pull it out right at the end! Alas, not this time. On one hand, having a podium and a championship in your hand and losing it must be disappointing. On the other, did we talk about the Midnight Wisps much? Not really, they weren't "The Narrative" that the teams ahead them were throughout the competition. Still, it means they lose out on a podium, some more hardware, and auto-qualification.
3rd/Bronze: Minty Maniacs (Minty Flav-C, Minty Drizzel, Minty Fresh, Minty Swirl, Minty Mint-R; Minty Hint-coach) (4 gold 3 bronze) 194 pts
Maybe the story of the entire Marble League, coming out of retirement to take two of the first three events and be pretty much step for step with the O'rangers the whole way! Nobody won more golds than the Minty Maniacs, and as we said earlier, Minty Fresh becomes only the second double gold winner in Marble League history (Starry, 2017). And what more, they'll be in next year's competition thanks to their auto-qualification. Next time though, with a target on their backs.
2nd/Silver: O'rangers (Kinnowin-C, Clementin, Mandarin, Tangerin, Orangin-R; Rango-coach) (3 gold 2 silver 2 bronze) 195 pts
I'm not sure if this is a good year for the O'Marbles siblings. Sure, 3 golds, 7 medals total, overall silver, auto-qualification for 2021, that's nice. But those last three events, especially that 16th place in collision, is going to hurt for a while. And especially considering who the only team they're looking up at on the podium is.
Champions: Savage Speeders (Speedy-C, Rapidly, Swifly, Velocity, Whizzy-R; Quickly-coach) (3 gold 1 silver 3 bronze) 202 pts
There's a lot to say. We were all wondering about what happened to the Savage Speeders during the first few events, dead last at one point. Well, we found them. 3 golds and a silver in the last 6 events, even with that goose-egg where we thought it was all over. Hell, three golds, a silver, and a 16th in the span of 5 events. That right there, except for the high jump, is a hell of a spurt.
There is zero doubt that the Savage Speeders are on top of the marble sports world right now. They've won it all this year. Marbula One title, Marbula One drivers' title, Marble League Qualifier, and now this, the Marble League. And they're the only team with two.
So I guess that does it, as coach Quickly takes the customary Champion's Run down the Gravitrax track to trigger the extinguishing of the cauldron, we leave you with the rivalry, hard fought but mutually respected.
There's Marble Rally, Marbula E, and a new season of Marbula One coming up. As for the Marble League, we'll see you next year in Felynia, home of your 2021 hosts, the Crazy Cat's Eyes!