Latest posts by Beerguyrob
(see all)
Apologies for the delay – there was a WordPress issue. Scotchy will have a 'meeting' with them tomorrow!
NFL Nuggets:
Tuesday means roster moves:
---
Canada lost a sporting legend yesterday.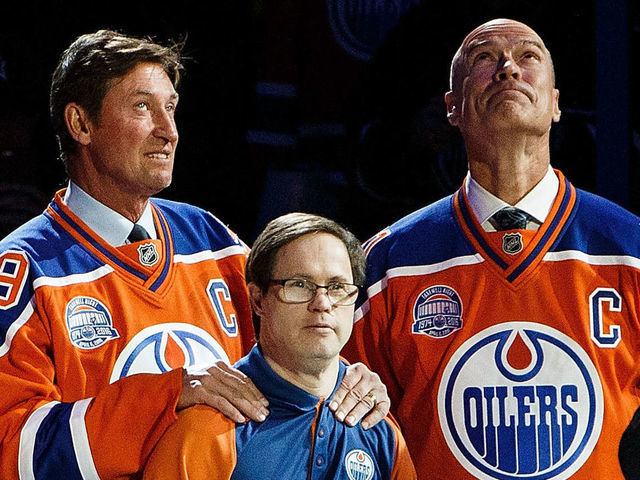 Joey Moss died Monday, age 57, as a result of conditions brought on by early onset dementia & lingering effects from breaking his hip back in July.
He was the 12th of thirteen children born to Lloyd & Sophie Moss. They were a travelling band of musicians, who travelled the Canadian West playing concerts.
According to Canadian hockey lore, he became part of the Oilers equipment personnel in 1984 because Wayne Gretzky was dating Joey's sister, Vikki. Gretzky had an aunt with Down Syndrome, so he had an immediate rapport with Joey. The kid had a job working at a bottle depot at the time, and Gretzky would often see him outside waiting for a bus to take him to work, even when it was 40 below. Gretzky figured a kid with that kind of drive shouldn't be just sorting deposit refundables for his whole life, so he convinced Glen Sather to give the kid a chance.
According to Wikipedia & CBC Edmonton, after the season ended, Gretzky got Moss a job with the Edmonton Eskimos/Football Team so he could build on the progress he'd made & not lose anything over the summer. He even offered to pay Moss' salary.
Gretzky eventually broke up with Vikki, but Joey Moss stayed with the Oilers for a total of 35 years. He worked almost every game in the locker room, and even sang the anthem a couple of times each year. He would divide his time between the Football Team – starting the season with them – and the Oilers – moving over once pre-season started – for most of his adult life.
He knew, I knew, everyone knew about the Down Syndrome. The thing was, the longer the kid was in the job, the less it came up. When he did something wrong, he got yelled at; when he couldn't do something, he asked for help. The job he did was one that required him to be a hard worker, not be some hire they made to appease their star's girlfriend. If that was the deal, he'd have been gone the minute Gretzky broke up with Vikki or Wayne fucked off to LA.
Janet & I are saddened to learn about the passing of Joey Moss. Not only was Joey a fixture in the Edmonton dressing room, he was someone I truly considered a friend. We will miss you Joey and you will always live on through our memories. Our thoughts are with Joey's loved ones. pic.twitter.com/5ucUQhcWQp

— Wayne Gretzky Estates (@GretzkyEstates) October 27, 2020
His impact & influence led to him receiving an NHL "Seventh Man" All-Star Award in 2003, a Queen Elizabeth II Diamond Jubilee Award in 2012, and was inducted into the Alberta Sports Hall of Fame in 2015.
He was an institution, not a charity case. He did work with a charity, the Winnifred Stewart Association, which is an Edmonton-based group working with the developmentally disabled, and named after a pioneer in education and schooling for the "mentally handicapped".
Just one of the guys.

Joey Moss had a profound effect on the players and anyone lucky enough to know him. pic.twitter.com/5kDBVCULUK

— NHLPA (@NHLPA) October 27, 2020
You can find an extensive collection of tweets about him here. His was a big enough presence that even ESPN and NBCSports covered his passing. The Oilers have a complete history of Joey Moss' life on their website, including the stories about Gretzky hiring Joey's mom to handle his fan mail when the Moss family was destitute after the father died. His friendship with Wayne Gretzky is a hallmark of both their lives, and a testament to both of them that they kept it going long after one of them left town.
To close, I dare you to watch this story about him and deny someone's cutting onions.
RIP, Sunshine.
---
Tonight's sports:
MLB:

Dodgers vs. Rays – 8:00PM | FOX / Sportsnet

MLS:

Montreal vs. Nashville – 7:00PM | TSN
Whitecaps FC vs. Seattle – 10:00PM | TSN
It's one week until the election. Try not to let that fact ruin your evening.