Obligatory: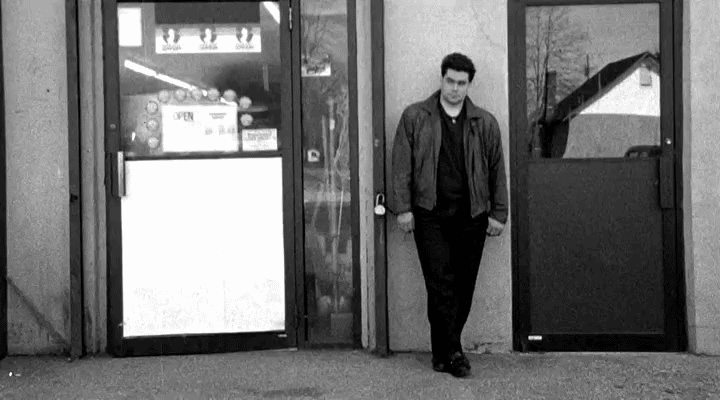 That is a wonderful movie. I don't know how you could have made it through the 90s and not seen that movie, but I recently found out Redshirt had never seen Archer, so I'm apparently out of touch with what people actually watch.
But I digress.
The post-election discussion has died down a bit, which is good for me. However, I was feeling a little less than 100% this weekend, so I took it easy and had one of those weekends where you watch football and mostly sleep, eat, drink, nap, and repeat. I apologize to the married DFOers that have no idea what I'm talking about.
There are a few advantages to being single at my age and that is a big one.
All of this is to say that I did not get a chance to look back through the previous week's comments to find the gold, Jerry, gold and bring it back for your perusal. Seeing as I'm writing this on Monday night right before the game is about to start, I don't think I have enough time.
However, I do have something important to discuss with you that will work very well given what's on tap tomorrow during the day. I speak, of course, of the UEFA Nations League.
***
This competition was started two years ago and it was meant to replace meaningless friendlies with a tournament that would ensure more competitive games for all teams across European soccer (controlled by UEFA, hence the UEFA in UEFA Nations League). For the games to be competitive, though, there had to be a prize for everyone to want to get.
That came in the shape of two things: 1) The UEFA Nations League Championship, and 2) An opportunity for 4 smaller countries to qualify for the European Championship (originally scheduled for 2020 but, you know).
Last week, the playoffs for those 4 spots were played and, thanks to the Nations League, we have:
North Macedonia making its first ever appearance in a major tournament,
Slovakia making its second European Championship appearance since becoming an independent country,
Hungary not only making the tournament but getting 2 HOME games!
and Scotland also getting 2 HOME games plus their first appearance in a major tournament since the 1998 World Cup!
The Nations League: It's a good thing!
***
Today, we have the start of the final day of games in the Nations League Group Stage. To refresh your memory, the 55 National Teams in UEFA were divided last year into four Leagues: A, B, C, and D.
League A had the top 12 teams divided into 3 groups of 4. League B had the next best 12 teams divided into another 3 groups of 4. League C had the next 15 teams divided into 3 groups of 4 and 1 group of 3. League D had the last 16 teams divided into 4 groups of 4.
There was supposed to be relegation and movement between leagues but then COVID happened and things got shaken up. For the 2020-21 Nations League, UEFA decided to keep the promotions, but take out the relegations so that League A now has the same 12 teams it had previously plus the 4 that were scheduled to move up from League B. Similarly, League B kept the 4 teams it was supposed to lose plus it gained the 4 teams that were supposed to move up from League C plus the 4 next best teams in League C. Finally, League C got the 9 best teams from League D plus the 4 teams that were supposed to be relegated plus the 3 teams left. League D was left with 7 teams. It will probably be clearer when you see the picture below:
All of those teams were split into groups as follows: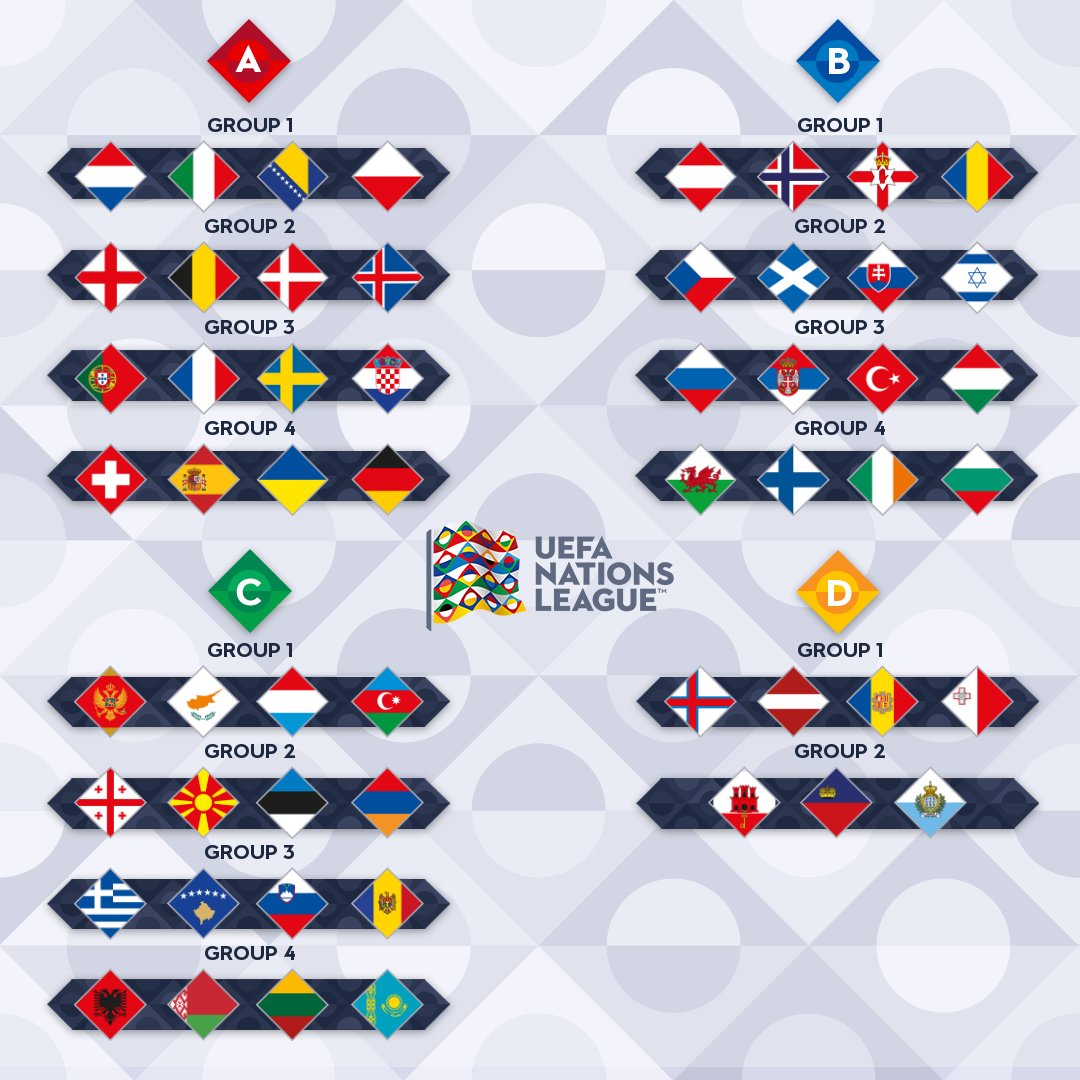 For those of you that don't know your country flags, the group standings as of today are as follows:
The winners of each Group in League A go to the playoffs for the championship. The winners of each Group in Leagues B, C, and D move up to the next higher level League. The last place teams in each Group in Leagues A and B are relegated to the next lower level League. The four last place teams in League C will play off to determine which two are relegated to League D.
This means that today's games have a LOT of repercussions. Let's go one by one:
Sweden at France, 11:45 AM Pacific, ESPN+ and TUDN Extra
France have already assured themselves a playoff berth. Sweden, however, are tied with Croatia for last place, which is the place that gets relegated to League B. They must do better than Croatia in order to stay in League A.
Portugal at Croatia, 11:45 AM Pacific, ESPN2 and TUDN Extra
Croatia needs a better result than Sweden to stay in League A, but they have the benefit of playing at home. Meanwhile, Portugal is playing for pride after France killed their chance to defend their title.
Germany at Spain, 11:45 AM Pacific, ESPN+, Unimás, and TUDN
First place in the group is up for grabs as Germany is only 1 point ahead of Spain. A tie gives the playoff spot to Germany. Otherwise, the winner moves on.
Ukraine at Switzerland, 11:45 AM Pacific, ESPN+ and TUDN Extra
On the other side of the table, Switzerland can stay in League A if it is able to beat Ukraine at home. Any other result and the Swiss are relegated to League B.
Liechtenstein at Gibraltar, 11:45 AM Pacific, ESPN+ and TUDN Extra
First of all, this is a golden chance to view one of the most unique stadiums in the world, at the foot of the Rock of Gibraltar right next to the airport's runway. Second, if Liechtenstein can beat Gibraltar, it will earn promotion to League C. Any other result and Gibraltar moves up.
Faroe Islands at Malta, 11:45 AM Pacific, ESPN+ and TUDN Extra
If Malta can beat the Faroes at home by more than 1, it can qualify for League C. Any other result and the Faroe Islands are promoted.
Latvia at Andorra, 11:45 AM Pacific, ESPN+ and TUDN Extra
If Andorra can beat Latvia at home, it will avoid the Wooden Spoon in League D Group 1. On the bright side, they play in League D, so there's no relegation.
Cyprus at Montenegro, 11:45 AM Pacific, ESPN+ and TUDN Extra
All Montenegro has to do is beat 4th placed Cyprus at home and it will be promoted to League B. Things could get complicated if they tie or Cyprus wins as Luxembourg could overtake them. Cyprus, for their part, want to avoid relegation to League D.
Azerbaijan at Luxembourg, 11:45 AM Pacific, ESPN+ and TUDN Extra
Azerbaijan is only 1 point ahead of Cyprus, so an upset in Montenegro could mean that Azerbaijan gets relegated to League D if it loses to Luxembourg, who could get promoted to League B in that scenario.
***
It's going to be an awesome day of soccer watching with a LOT at stake! I know I'll have both screens on in the background while I "work". Won't you join me?
Also, check out the revised Euro 2020 schedule below and start making plans:
Latest posts by ballsofsteelandfury
(see all)