Latest posts by Beerguyrob
(see all)
Fifty-seven years ago today, John F. Kennedy visited San Antonio & Houston. He gave some speeches & was reported to have had a generally wonderful time. He retired for the evening in Fort Worth, Texas, and expected to give some more speeches after a comfortable ride in an open-air car with John Connolly & their respective wives. I believe Jackie intended to wear a pink suit.
Forty-five years ago today, Queen released "A Night At The Opera".
Of course, we all know about "Bohemian Rhapsody", but what most folks forget is that this album also has "You're My Best Friend" and Brian May's instrumental version of "God Save The Queen". Plus, the album title was inspired by the Marx Brothers movie; it turns out Groucho was a fan, and he invited them to his house, where they performed songs from the album for him.
And fifty years ago this coming Friday, The Kinks released "Lola Versus The Powerman and the Moneygoround".
Obviously famous for "Lola", this album also has the underappreciated "Got To Be Free", "Get Back In Line", and "Apeman". It did well enough that they were able to renegotiate their contract, getting funding to build their own studio – Konk – and the first album to come from that was "Muswell Hillbillies". Plus, their unofficial four-year ban from touring the States had ended, so they were able to tour in support of the album, and spent part of the time with some kid from London that knew how to play the piano.
Music history is real history.
---
Sunday Broadcast Maps: (courtesy 506sports.com)
CBS SINGLE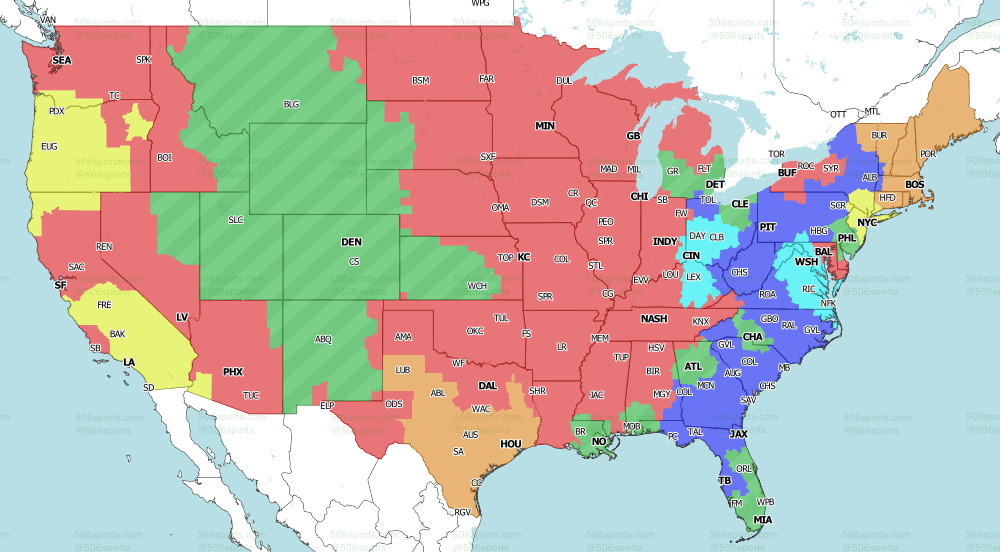 █
 Anchorage
█
 Fairbanks
█
 Honolulu
█ Tennessee @ Baltimore – Jim Nantz, Tony Romo
█ Pittsburgh @ Jacksonville – Ian Eagle, Charles Davis
█ New England @ Houston – Andrew Catalon, James Lofton
█ Cincinnati @ Washington – Spero Dedes, Adam Archuleta
█ Miami @ Denver (LATE) – Kevin Harlan, Trent Green
█ NY Jets @ LA Chargers (LATE) – Greg Gumbel, Rich Gannon
——————————————————-
FOX EARLY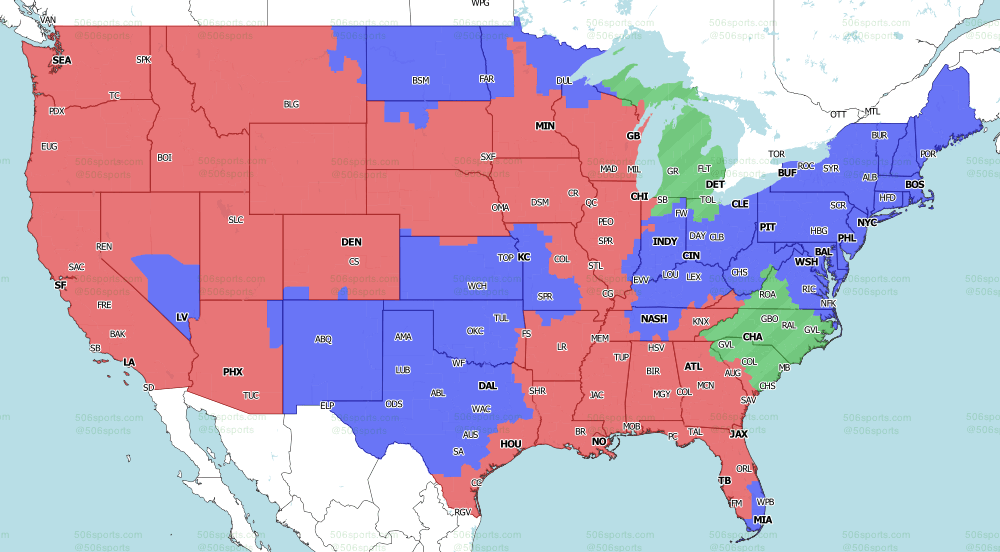 █
 Anchorage
█
 Fairbanks
█
 Honolulu
█
Atlanta @ New Orleans – Kevin Burkhardt, Daryl Johnston
█
Philadelphia @ Cleveland – Adam Amin, Mark Schlereth
█
Detroit @ Carolina – Kevin Kugler, Chris Spielman
——————————————————-
FOX LATE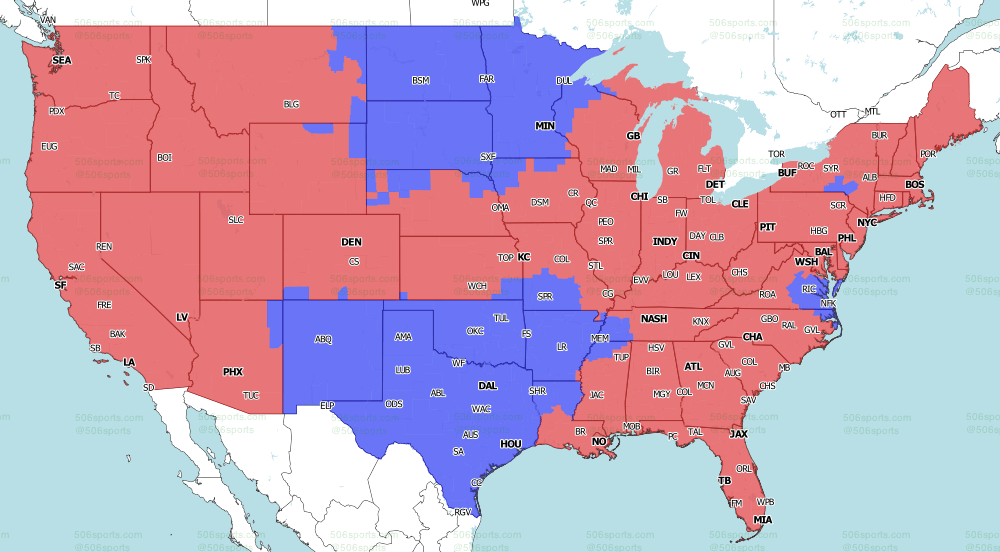 █
 Anchorage
█
 Fairbanks
█
 Honolulu
█
Green Bay @ Indianapolis – Joe Buck, Troy Aikman
█
Dallas @ Minnesota – Kenny Albert, Jonathan Vilma
How shitty are the Cowboys that FOX won't even send Troy to cover them? Shitty enough that I'm starting Minnesota's defence in fantasy.
NCAA:

Tennessee at Auburn – 7:00PM | ESPN / TSN2
Oklahoma State at Oklahoma – 7:30PM | ABC
Arizona at Washington – 8:00PM | FOX
Southern California at Utah – 10:30PM | ESPN / TSN2
Washington State at Stanford – 10:30PM | FS1

Fisticuffs:

UFC 255 – Figueiredo vs. Perez: From Las Vegas

Prelims – 6:30PM | ESPN2 / TSN5

PBC Fight Night:

Javier Fortuna vs. Antonio Lozada – 7:00PM | FS1
Have yourselves a luverly evening. Maybe listen to a whole album instead of just the singles. You'll be pleasantly rewarded.