Latest posts by Beerguyrob
(see all)
NFL Nuggets:
I'm just going to let the headline do the talking:


Mike McCarthy channels inner Gallagher, smashes watermelons before Cowboys' win over Vikings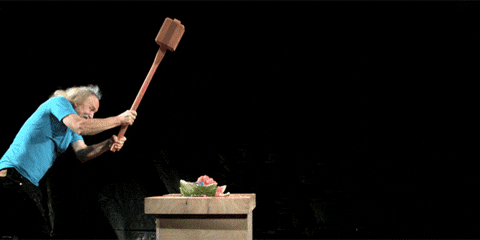 Apparently, to make his point in front of very large African-American gentlemen, Mike McCarthy made his point to the team by having coaches roll watermelons in front of the players with individual objectives for the game written on them.

Then he smashed the melons to make his point about hitting their targets.

Such was the team's enjoyment that Demarcus Lawrence demanded that he be the one to smash the Dalvin Cook melon, which McCarthy obliged.
COVID update!

On the list: (confirmed cases of note)
Wearing masks:

Starting this Thursday, all players not wearing a helmet have to wear a mask on the sidelines.

Also, play-callers will not be required to wear a face mask or double-layered gaiter in addition to a face shield.

This is to allow them to be consistent with all other coaches who choose to wear face shields.
Regular injuries update:

Joe Burrow has both a torn ACL and a torn MCL.

Mike Brown is happy Burrow used the Costco coupon & got them both at once.
As Horatio covered earlier, the recovery time is expected to be 8-9 months, which will get him back in time for training camp.
Only Carson Wentz (40 times) and Russell Wilson (33 times) have been sacked more often this season.

As a reminder, David Carr was sacked 76 times in his rookie season, so all the old-school DURR DURR types would consider Burrow a pussy.
Finally, in a story after my own heart, the Eastern Market Brewing Company in Detroit introduced the "Same Old Lager", whose release was timed to the Lions 20-0 defeat to the Panthers.
It was marketed as "a crisp, 4.5% alcohol-by-volume lager that has one simple request: 'Don't set your expectations too high'."

Further,

the brewery's

description of the beer was: "This classic American lager is exactly what you'd expect. Light, crisp and always leaves you wanting more. Just keep telling yourself 'the Next Beer, will be The Beer'."
I said "was marketed" because a day after its release, Barry Sanders threatened legal action over his likeness being used without his permission.

I mean, it's pretty goddamned obvious. According to BeerBrother, if they hadn't included the number they'd have been good to go, as parody & fair use law would have protected them.
---
Well, this is my last appearance for a while.
As some of you are aware, I suffered a pretty bad rotator cuff tear back in the summer, and tomorrow is my surgery date. If all goes poorly, I'll say hi to Seamus for all of you, and thank him for yeah right's peppers. If all goes well, the pin gets removed from my shoulder around mid-January and I'm able to return to both work and [DFO] on March 1st.
So, given my pending absence, I'm feeling a touch nostalgic.
My first post on the site dates back to January 2016, a little ditty I wrote about the Seahawks which gave birth to the characters "Tom Cable, Rage Monster" and "Kam Chancellor, Monolinguist". I wrote a few pieces – most notably the origin story for BLEERGH, the God of Yellow Flags – before I started helping Internet Dad with the Open Threads. My first of those was in February 2016, highlighting the results of the 2016 Westminster Dog Show & the launch of "The Ringer" by noted jagoff Bill Simmons, and since then I've provided about 900 Open Threads, mostly in the off-season.
I am quite proud of my contributions, such as they are, over the years. People have been very patient with my history & long-winded writings, although I haven't been able to do many of those recently. Every NHL playoff season I make sure there's some semblance of a preview for each round. But I think my lasting contribution will be the creation of "DFO Hate Week", the seven days leading up to The Big Game™. I'm not sure what I'll be doing or able to do upon my eventual return, but I look forward to at least trying.
Until then, glasses & irons up!
---
Tonight's sports:
MLS Soccer Playoff:

Toronto FC vs. Nashville SC – 6:00PM | FS1 / TSN
Philadelphia Union vs. New England Revolution – 8:00PM | ESPN / TSN3
Seattle Sounders vs. Los Angeles FC – 10:30PM | ESPN / TSN
Kind of a barren night to go out on, yet strangely apropos. I'll see you all in the Biden administration.