Self-righteous crap and crying: what a way to start 2021.
Never underestimate media and charisma. Yeah, charisma; folks in leadership positions do acquire it, even despite personality. Also, overexposure turns the mind into mush. So when a powerful figure speaks, the minions do not require a direct message to stoke irrational hatred into a frenzy. And we have to hold those leaders accountable—and I mean YOU, Joe Judge. Your "TANKING!" shade at the Eagles was more ham-fisted than Eric Ebron, the Roberto Durán of tight ends.
Listen, there's plenty to cry over a 6-10 season. But out of missing a division title because you needed Philly to win a game with only draft implications… Those Giants fans, the Joisey dwellers kind in particular, achieved another level of Douche.
Is it higher? Lower? No: it's Another Level. It stands alone. Perhaps it's the environmental collapse in the area, a toxic landscape overflowing with dysenteric tweets and oral farts from Mike Francesa and ilk. I curse the marketing arm of "Uncut Gems" for not displaying in 35-pt. font that THAT WINDBAG appeared in an otherwise uninspired and boring film.
To be clear: Francesa made "Uncut Gems" hateable in full. I rather see Harvey Keitel's stoned babbling and cock waddling in "Bad Lieutenant" on loop. Now THAT was an educational little film about gambling.
I had to get that off my chest because, honestly: the death, pestilence, layoffs, politics, and riots are getting old. Kids indoors, however,
My personal policy
Full commiseration and respect for folks who've been tending to their distance-learning kids, on top of adult crap getting very, very real. Hey, at least the Patriots failed to make the 2020 playoffs and we'll soon be living life without the NFC East. We just have to tolerate Team, although DC's loss would come at the expense of, you know…
NEWS
By which I mean NFL news, obvs. It's teh playoffs dammit.
 No new positives for The Factory, meaning Covid, not anything else from ownership down (as is usual bidness for The Pauls). Head coach Kevin Stefansky remains unavailable for Sunday night's game, as are G Joel Bitonio and WR KhaDarel Hodge. Cleveland's facility has been closed since last Friday, but the team planned a "virtual walk-through" today.
Virtual TJ Watt
The Sadness @ Rooneys Wild Card game will not host fans, "other than friends and family". Espen reported that a Pennsylvania state order does not allow more than 2,500 to congregate at the stadium, including coaches, players, and other Roethlisberger apologists. El Ben, true to form, bitched:
"Some states are going to allow a lot more fans than others. Is that fair? Is it not fair? How does it make it equal? There are a lot of unanswered questions, but that is the year we are living in."
As of 6 PM Central, rhetorical questions remain the most chickenshit way to complain.
In a brief glance at Twitter this afternoon, I saw a lotta conjuring of Deshaun Watson trades by media types. This non-event sprouted legs because, yesterday, the Texans hired Nick Caserio as their new GM and, some time after, The Shaun tweeted  "some things never change…"—and then that tweet was deleted.  The tweet of course was a stab at Houston management, and had absolutely nothing to do with yesterday's seditious romp in DC. Again: if you got a gripe, state it plainly dammit!1!1
Chase Young was diagnosed with "youthful exuberance" by Ron Rivera, after the talented rookie called Tom Brady "the GOAT" whom everyone wants to sack. Side effects include Bulletin Board Material (per Dr. Rivera), and a "fun game" (per hoove-footed demon QB). Here's your headline: "Cliché Upends Washington".
In news that concern the NFC East, the Iggles will not renew the contracts of Marty Mornh—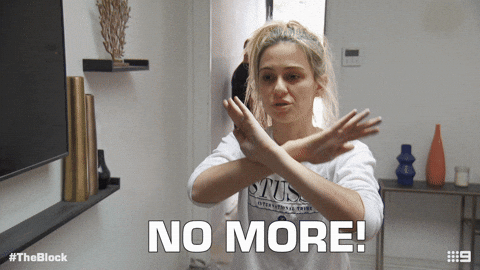 Via giphy.com
Oof. That last item caused a Mel Kiper pop-up vid from espen's site. Let's switch to the House Organ for player moves:
Activated: K Stephen Gostkowski (TEN), from the Covid-19 list. Also activated for Sunday, my meme for Gost shanks, the classy one:
Practicing: DL DeForest Buckner (IND)
Clenching: Butts (BUF). Mr. Buckner makes the Clots scary. Plus, the Frank Reich Homecoming Vibes are strong. Da Humps may throw a wrench to my Tits @ Bills AFC Championship prediction.
Counterpoint: WRs Stephon Diggs (oblique) and Cole Beasley (knee) are back at practice.
Not slighted: the Ravens. I'm not discounting the Ravens, at all. Hell, objective dispenser of wisdom Brian Billick said "The Baltimore Ravens are the best team in the NFL right now" (video). That's the headline, which I take as true because there's no way I'm watching a 13 min. video, no matter the charlatan.
Seen: WR Mike Evans (TB), at practice, testing knee. Still a maybe for Saturday night.
First-Team Reps: QB Taylor Heinicke (WAS). Alex Smith is officially questionable, including playing status. If I were a gambler, I'd jump on the Bucs at -8.5 (per Draftkings). This seems a better bet than Saints at -10 (Id.).
Fine Without Practicing: RB Alvin Kamara (NOL). The source is Drew Brees, per a PFT piece that put in my computer a Peter King vid. (No link, obviously, but now I have to sanitize and exorcise the motherboard.) The game against Chi**** is on Sunday, a timetable that may render Kamara available. This tilt (IMHO) has Anything Can Happen potential, which is PERFECT for a Nickelodeon broadcast! Yea the Bears are crap, but think about it: even during Brees's peak, the Saints have been NFC Divisional perennials—and then something happens. Who can forget, against RAMMITTTT a couple years ago in the NFC Championship…
Brees's INT in overtime.
Hey Arnold! RAWKS
Now that I think about it, Sean Payton is a Helga Pataki-type, which would make Taysom Hill his Arnold.
/mulls it over
Ah, maybe not. But when Matt Nagy talks about the Bers quarterback room, Nagy becomes a total Sid.
Tonight's Sprots (all times Central, listing from ESPN):
5-Step Drops
Sixers @ Nets – 6:30 PM (TNT)
Cavs @ Grizz – 7 PM
Mavs @ Nugs – 9 PM (TNT)
Spurs @ Lakers – 9 PM
Wolves @ Blazers – 9 PM
Fútbol
Copa Sudamericana Semis (first leg), the B-Tourney of South American clubs
-Coquimbo Unido (CHI) hosts Defensa y Justicia (ARG) – 6:30 PM
"Defense and Justice"—an Argie club named with a Fascist-y slogan? Well I never…
-Chilean Top Flight (Apertura)
Deportes Iquique hosts Universidad Católica – 6:30 PM
Women's NCAA Basketball
Crowded slate; full listing here. Televised games below:
Northern Iowa @ Valparaíso – 6 PM (ESPN3)
Drake @ Evansville – 6 PM (ESPN3)
That's a [sic] for the listing. Dunno if ESPN3 broadcast both on split-screen.
Auburn @ Ole Miss – 6 PM (SEC)
LSU @ Alabama  – 6 PM (SEC)
Georgia Tech @ Clemson – 6 PM (ACCNX)
#2 Louisville @ Virginia Tech  – 7 PM (ACCNX)
Notre Dames @ BC – 9 PM (ACCN)
#10 KY @ #8 Texas A&M – 7:30 PM (SEC)
Tennis
 2021 Delray Beach Open (First Round)
McKenzie McDonald (USA) vs. #6 San Querrey (USA) – 6 PM
Indentured Roundball
#5 Iowa  @ Maryland – 6 PM (ESPN 2)
Indiana U @ #8 Wisconsin – 6 PM (FS 1)
Cincinnati @ SMU – 6 PM (ESPNU)
DUUUUUVAL St. @ Eastern KY – 7 PM (ESPN+)
BYU @ #1 Gonzaga – 7:30 PM (ESPN)
For the Love of God!
#12 Illinois @ Northwestern – 8 PM (BTN)@
USC @ Arizona – 8 PM (ESPN 2)
Nevahdah @ SD State – 9 PM (CBSSN)
Wash. State @ Cal – 9 PM (PAC 12)
And to finish on a high note, let's talk about Donald Trump. Those of us under his sphere of crapulence still have to endure him until January 20—and not "Maybe!" He gone, out. And you gotta hand it to 45: he has charisma and speaks hard truths. Especially about his favorite topic: himself
We got a Playoff Picks Pool! Here's the link to join. Nothing to buy, a lifetime of glory to win. Plus a gently-used Fleshlight. All gifs via giphy.com.