Latest posts by The Maestro
(see all)
Hi everyone, Hue Jackson here!
You may remember me as the former head coach of the Cleveland Browns. Some people claim my 3-36-1 record with the team was a disaster – but if you consider it from my perspective, I considered it an unabashed success in making a fortune from the complicated, beautiful art of scamming. That's right!
If you look at my life, I've conned GMs, coaches, and athletic directors everywhere I've been. As a college quarterback at the University of the Pacific, I went 9-14 in two seasons as a starter. With no pro career on the horizon, I was hired right back to my old alma mater as a receivers and running backs coach. From there, I slowly failed my way upwards to the pro ranks, learning from such all-time coaching legends as Marty Schottenheimer, Steve Spurrier, Bobby Petrino and Tom Cable.
Despite the fact I've now been out of football for over two years, I consider my time with the Browns to be the pinnacle of my career as a scammer thus far. I'm confident that I'll be back on the gridiron soon enough! Your first free lesson in the art of the scam: it's important to never, ever give up – and always to keep a positive mindset. I just know some team with too much money and not enough common sense will be calling me soon.
If you choose to listen to me and enroll in my monthly classes – available exclusively on audio cassette, for the low, low fee of just $29.95 per month* – you, too, can learn the tricks and secrets of how to scam your way to the top! Call 1-900-FAST-BUX now to get exclusive access to the best information available.
Yes, I've learned alongside some of the best in the business! With endorsements from such big names as Charles Ponzi, Bernie Madoff, Jim Bakker, Elizabeth Holmes, and many, many more, the Hue Jackson School of Scam Artistry is the best in the business.
Still not convinced? Consider checking out this week's free** tape here – just call 1-900-CASH-OUT to receive it! This week's lessons come from one of the greatest men Scotland ever produced. Check it out below!
*minimum 84-month subscription
**Shipping and handling still apply; will be shipped to your door via shaved eunuch piloting a LearJet.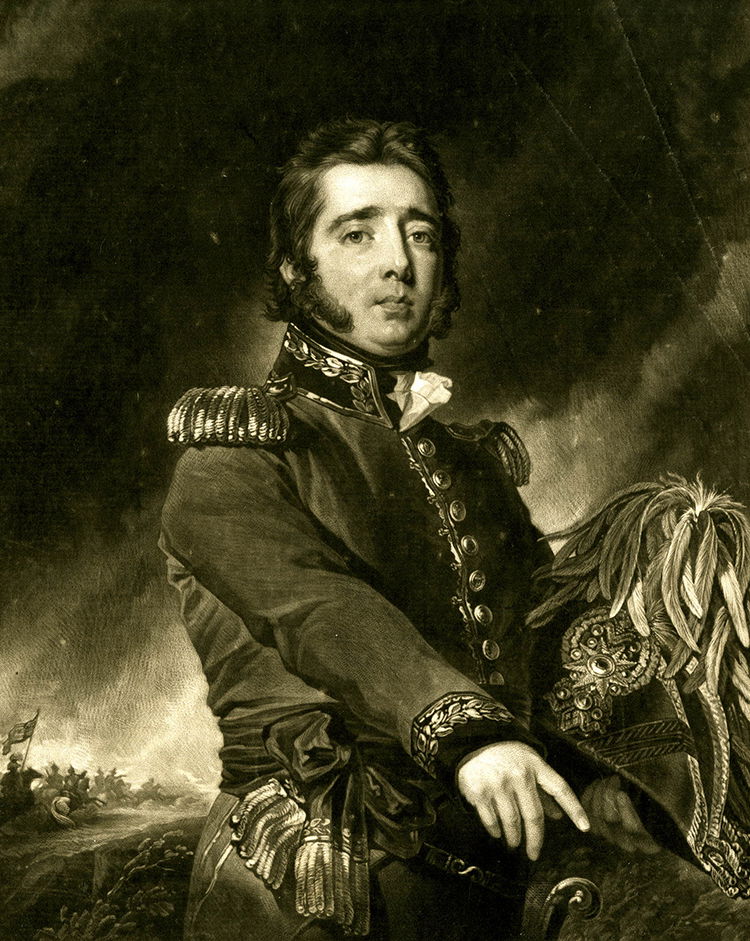 GREGOR MACGREGOR, CAZIQUE OF POYAIS
BORN: December 24th, 1786, Stirlingshire, Scotland
DIED: December 4th, 1845, Caracas, Venezuela
As some other pieces of writing on the internet have shown readers recently, the English are gullible as hell. More recently, they've fallen victim to the twin ploys of Rupert Murdoch-owned national media and the looming economic collapse coming with Brexit… but in centuries, there have been some real doozies that fleeced hundreds and thousands of people out of some serious coin. Gregor MacGregor, perpetrator of a fantastic real estate con in South America, should have been named King of Scotland for his success. Instead, he received the title "Cazique of Poyais" – arguably much more interesting and unusual.
MacGregor's story begins in 1802, when he joined the British Army at the age of sixteen. He rose quickly through the ranks, becoming a lieutenant after only a year of service; in 1805, when he got married to Maria Bowater, the daughter of a Royal Navy admiral, he then had enough money and prestige to purchase the rank of captain for around nine hundred pounds (Buying yourself a rank? Very common in these days.). This saved him about seven years' worth of work in making the purchase – but MacGregor was nowhere close to being done yet.
In 1810, MacGregor retired from the army. He was honorably discharged with the rank of major after eight years of service, though the circumstances surrounding his departure, involving a serious quarrel with a commanding officer, cast a shadow on his departure all the same, despite the honorable discharge. Still, his retirement from the army gave him more time to spend with his wife and family in Edinburgh. Determined to keep social climbing, he continued to use his wife's wealth and family prestige to make connections, and felt a move to London in 1811 would further his cause even more. Unfortunately for Gregor, he ran into a major problem here – his wife passed away shortly after their big move to the capital. With access to his wife's family's wealth all dried up, MacGregor, now referring to himself in London society as "Sir Gregor MacGregor"  – despite having never received an official knighthood – needed a new way to make money and get famous and powerful. And fast.
Fortunately for Gregor, he didn't need to wait long. In 1812, he made friends with Venezuelan General Francisco de Miranda, who was visiting the UK looking for political and financial support for a revolution in South America. Seeing another fantastic opportunity for fame and fortune, he sold his Scottish estate and set sail to serve under General Miranda. While in Venezuela, his military career took off, ascending from the ranking of colonel all the way up to chief commander of the army after Miranda was imprisoned, and later executed, by the Spanish. MacGregor even married Josefa Lovera, cousin of the legendary Simon Bolivar.
By late 1819, most of the fighting in the Venezuelan War of Independence was over; the Republic of Gran Colombia, which comprised the modern-day countries of Venezuela, Colombia, Panama, and Ecuador, declared itself an independent nation. With MacGregor's military services not as necessary, he turned to adventuring all over the Caribbean, looking for ways of making a fortune. Along the way, he led several expeditions to New Granada and to Florida, where he abandoned several shiploads of troops to their doom in a series of disorganized, bumbling campaigns. But in 1820, at just 30 years old, he at last found what he was looking for.
On the eastern shore of modern-day Honduras lies an area known as the Mosquito Coast – it is territory that has been inhabited for hundreds of years by the Miskito people, an indigenous group that shares mixed ancestry with shipwrecked African slaves who washed ashore beginning in the sixteenth century. When General MacGregor, sailing in a commandeered ship, found the area, he brokered a deal with the Miskito King, George Frederic Augustus, to take eight million acres of uninhabited jungle, for free – an amount of land bigger than Wales. The land was essentially worthless to the Miskito people, as it was mostly just swamp and insects – completely unsuited for agricultural, industrial or residential purposes. Undaunted, MacGregor hatched a plan to sell land to hapless investors back home in the UK.
When MacGregor and his wife Josefina returned to London in 1821, they arrived with the most remarkable story – a "new utopia" of Poyais, offering an idyllic life for all those interested in purchasing passage and land from MacGregor, who referred to himself as the "Cazique [prince] of Poyais". Backed by some official-looking documents spinning a tale of boundless beauty and a peaceful tropical lifestyle, MacGregor raised over 200,000 pounds from investors in London, Edinburgh and Glasgow. He even exchanged their money with rather official-looking "Poyais dollars", which of course he'd printed himself.
With an extensive guidebook produced to entice investors and immigrants, people chomped at the bit to settle in Poyais. The first ship of 50 settlers, the Honduras Packet, embarked from Leith on September 10, 1822. When they arrived months later, they were greeted with… nothing. The beach was deserted, and the grand city that MacGregor had written of was nowhere to be found.
The survivors were rescued by British authorities from Honduras and Belize, but not before suffering horrifically. MacGregor, wise to the word that would eventually reach back home, left England for France, where he lived a life of luxury for several years, and tried to run the Poyais scheme on the French again. This time, he wasn't as successful.
Eventually, MacGregor would be arrested again in England, but at his trial in 1827, he was found not guilty on all charges and allowed to walk free. His freedom came from a five-thousand-word screed that his lawyer read out word-for-word in the courtroom – all of it complete, made-up horseshit. As MacGregor himself had written it, all of the guilt was pinned on several co-conspirators, who were imprisoned.
Living life high on the hog meant that MacGregor, despite his wealth from the scheme, burned through his fortune fairly quickly. By 1839, he applied for citizenship from Venezuela and to be reinstated to the army, in order to receive a pension. Once again, MacGregor got lucky, with old friend General Carlos Soublette vouching for him on his behalf. On December 4, 1845, Gregor MacGregor died in Caracas, a hero to the Venezuelans, a villain to the British, and a scammer extraordinaire to the cheats and con artists the world over.
***
If you liked what you heard, don't delay – call NOW for a free replica*** George Forman grill to go along with your monthly audio tape scam lessons! Remember, folks – just like duping fans into having faith in DeShone Kizer, scamming is an art form. Until next time – I'm Hue Jackson.
***We really mean replica. The grill is from a castoff Barbie mansion and is to scale with the rest of the toys in the house.
***
Information from this article taken from here, here, here, here, and here. Banner image by The Maestro.