A Canadian man-child of indeterminate age, he stays young by selling alcohol at sporting events and yelling at the patrons he serves. Their rage nourishes his soul, and their tips pay for his numerous trips to various sporting events.
Latest posts by Beerguyrob (see all)
The fact that Le'Veon Bell didn't return at all this week is a testament to the nature of the modern game, and the lengths to which players have to go to ensure their post-playing days financial & physical viability. Returning during a scheduled bye would have guaranteed him no contact for another week, and made sure he collected a cheque. However, he has chosen his principles over his wallet, and has instead chosen to sit out another week – at a personal cost of over $850,000.
As we have discovered this week, rather than continue to voice opinions on social media (where no one wins but everyone loses), he has taken the opportunity to put his energies into reworking the inspirational poetry of his hero, Walt Whitman.
Much like Walt Whitman was initially derided by his peers for his collection of poems, Le'Veon Bell has been chastised by fans & management for the stance he has taken. Furthermore, it surely is a better use of his time than sniping at teammates like Maurkice Pouncey, who as we all know comes from the Aaron Hernandez "DIE MOTHERFUCKER DIE!" school of settling interpersonal disagreements.
Will history look as favourably on his decisions as Whitman's? Only time will tell. But it does make for compelling reading, doesn't it Hank?
Today, he wraps up his feelings on the whole experience. Rarely has a player of his value to a team, and cost against the salary cap, sat out this long and returned. Le'Veon Bell has been through a gamut of emotions, and now that his return to action is inevitable it is only right to hear him describe the sentiment that flows through him and into the effort he will put forth to help his team, his teammates, and the city they play in.
My Legacy
I'm a business man the running back,
After bountiful years producing results, awaiting ultimate payment,
Being charitable around the community, helping children, bequeathing goods,
funds for a school or hospital,
Leaving money on the table, yet not charity nor
hometown discount.
Congrats to Groveport grad & Steelers RB Le'Veon Bell. He's donated $750K to his alma mater for new field turf in time for this season. pic.twitter.com/WbVMunnoLU

— Jerod Smalley (@JerodNBC4) May 24, 2017
But I, my life surveying, closing,  

With nothing to show for the weeks have I waited,
This town owes me everything, yet I owe it nothing, not a cent,
For I have sacrificed my health, my body, all for you,
And all I asked in return was equanimity, with my effort,
I return to tell you all to miss me when I'm gone.
Life
The quest for the seventh ring begins;  

(Have previous teams fail'd? then we send fresh teams—and fresh again;)
Ever on each season there is but one mystery beyond my return;
Ever the eager eyes, hurrahs, the welcome-clapping hands, the loud
applause;
Ever the question from the frustrated fan base:
How do we beat the goddamned Patriots?.
Yinzzondio
A statement, a word from me to you—if I may,  

Amid the rain, the cold, the snowy and blust'ry nights,
I will try to keep this simple, because I know many of you from;
Yinzzondio—I know, are weak with words; ignorant even
at the meeting place of the rivers three,
Each Sunday I see swarms of stalwart Yinzers, stout – so stout – men and women,  

Farting as they pass, they expel their gas
and are gone in the twilight,
(Into the stadium! Crowding beer lines! Demanding extra cheeze sauce!
If you did not see them first, you will eventually smell them later:)
Yinzzondio! Yinzzondio!—you people are all beneath me;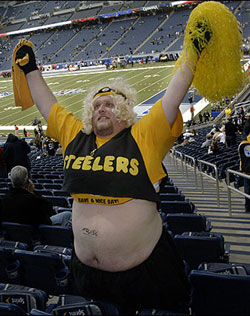 Do you not see—I work so hard to avoid becoming you;
Your exaggerated sonorous sound,
your wretched words borne through the air, for a moment.
You do not stop, yet I do not hear.
Fuck it; I'm gone next year.
So Long
To conclude – I have told management my contract terms;  

I announce when, if possible or perhaps I might choose to arrive.
I remember I said, before last season disappeared from the mind,
I would raise my voice jocund and strong, with reference to my demands.
When the Steelers do what is promis'd,
When the salary cap allows for plentiful contracts, offence and defence,
When throughout this League walk seventeen hundred superb athletes,
When the fans part way for superb athletes, then contribute to them,
When they purchase our jerseys, made perfect by foreign mothers,
Then to me and mine I deserve compensation.
I have press'd on, as is my right
I have sung the Nitty and Gritty of my demands – "Pay me what I'm worth" I've sung,
And the songs of the fans I've heard – "GO BACK TO WORK, YOU BUM!" they've sung.
I have offer'd my sacrifice to teammates – I am doing this not just for me but them;
While I might get paid, they will benefit; until then, I whisper, So long!
And look at my jersey one last time, and wonder whether ever I shall don it again.
Well, I believe that's all that needs to be said.
The last five days have been a literary walk through the emotions of an athlete clearly wrapped in the throes of a dilemma, one not of his own choosing but exacerbated by his own choices. He is obviously, like his literary hero, a masterful storyteller, and so clearly emulating the Whitman style it's scary to think that he developed an academic love of poetry at Michigan State University, especially given the likelihood of mental infirmity due to the quality of drinking water in the state – something which probably affects their athlete graduation rate of 72%.
It appears Le'Veon devoted his time off to both physical and educational pursuits, and this output – which we have just barely scratched the surface of in five days – is testament to his commitment to both return to help his team AND audition for free agency via his return. Whichever of his pursuits comes to fruition, he clearly has greater goals for himself in mind.