Latest posts by Beerguyrob
(see all)
Welcome to another [DFO] recurring tradition: Hate Week – where we examine various aspects of the game which culminate in this year's Super Bowl.
Tonight's first installment in the third year of this tradition is all about the state of the NFL itself, brought to you by medicinal marijuana, arbitrary justice, and the Second, Third, Fifth, & Ninth Courts of Appeal.
---
Now, the League itself has never been stronger financially. After the 2017 season, the league split revenues of $8.1 billion between the 32 teams, working out to $255 million per organization. TV ratings are up 11% over 2017, and per-game ad revenue for the league was up over the course of the season, and TV rights have never been more lucrative, with FOX recently starting their 5-year, $3.3 billion Thursday night contract.
This despite the myriad issues the league dealt with. And it hasn't gotten much better.
Attendance:
Attendance across the league was down 0.5% from 2017 this year, and at an average of 67,000 fans per game, it's the lowest average attendance in the league since 2010.
NFL REGULAR-SEASON ATTENDANCE TREND

SEASON

AVERAGE

'18

67,100

'17

67,404

'16

69,487

'15

68,400

'14

68,776

'13

68,401

'12

67,591

'11

67,394

'10

66,960

'09

67,509
Only 9 teams could claim 100% capacity at kickoff; one of those teams was the Jets, who claimed this
was a sellout crowd of 77,982. I was there; that stadium was 3/4 full at best, and half of those fans were Packers fans. Media investigations forced the [Redacteds] to revise their attendance figures, which changed their results from over 95% attendance in 2017 to 77% in 2018. The NFL has had meetings about the Chargers and their viability in the LA market; the Chargers were forced to reduce their anticipated PSL revenue goal from $400 million down to $150 million, based on ticket price reductions and licence-fee reductions in order to attract more purchases. Their players have complained about home games feeling like road games based, and road teams see playing the Chargers as an advantage due to the influx of their visiting fans, with the Chargers tacitly acknowledging the issue by piping in crowd noise during practices. The Bengals finished "last" in attendance, because while they drew more fans on average than the Chargers – 50,783 vs. 25, 383 – stadium size meant the Chargers had a higher percentage of seats sold – 77.5% vs. 96%.
So while the games were "sold out" across the league, and the "announced crowds" were based on tickets sold for those games, turnstile attendance was closer across the league to 90%. With improvements in TV coverage, the influx of legalized gambling, and increases in stadium costs for visiting fans, the trend for attendance is likely to continue downwards.
—————————————-
Ad revenue:
Ad revenue is down 19% over 2017, because prices are set based on the previous season's numbers. The 2016-17 season had ratings that were down 10%, mostly based on the fallout from the anthem controversy.
To be fair, ratings were up for the 2018 season. The average weekly viewers for NFL broadcasts in 2018 was 15.8 million. While that is up over 2017's 14.9 million, it's still far-below the 2015 number of 17.9 million. So while the league can charge more next year, they are only earning more because inflation has raised the base cost of ad space; they are making less money than 2015.
—————————————-
Lawsuits:
They are waist-deep in a collusion case with Colin Kaepernick
that they have yet to be able to dismiss. They started the season unable to receive summary judgment in the case, and an arbitrator allowed the case to proceed to trial. Since then, tapes & transcripts have alleged that there has been effort since the start of the 2017 season to keep Kaepernick out of the league, to the detriment of teams attempting to make the playoffs. Most recently, Kaepernick's lawyers have the example of the [Redacteds] after losing Alex Smith, and the litany of negative options they paraded onto the field, resulting in their two-game division lead turning into a third-place finish within the span of six games. Evidence of retaliation only strengthens his case.
[And now, there are mutterings of possibly either bringing Michael Sam into the case, or him launching his own based on what happens to Kaep. Because there has always been an undercurrent of sentiment around him being "a distraction", language that has a ring of familiarity due to the Kaep case.]
They are surrounded by concussion lawsuits, and in each one are actively working with their legal counsel to minimize their responsibility for overseeing player safety and reduce the amount they are forced to pay out to individual claimants. In some cases, fraud on behalf of some lawyers and claimants is going unchallenged by the league because it reduces the amount the league has to contribute, because it has provided the agreed-to sum and not one cent more.
Officiating: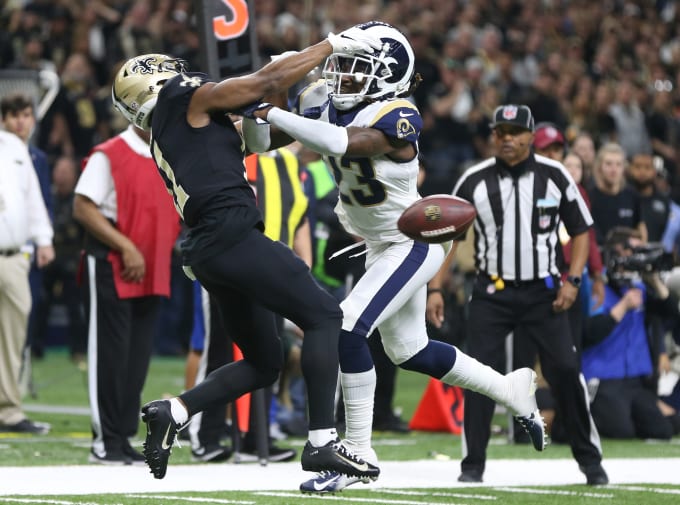 It's Super Bowl week for the NFL, and yet they are in Atlanta having to answer questions about lawsuits filed by New Orleans fans that have been transferred to federal court for expedited hearing. Despite stories saying they admitted such to the Saints, the league has officially refused to admit officiating errors in the Saint-Rams game. Now the conspiracy-minded have latched onto the fact that 4 of the 7 officials on the Saints-Rams crew were from the SoCal area, and MUST HAVE been working on behalf of a Rams victory the whole game.
Never mind that the head referee from the game, Bill Vinovich, is still eating grief two weeks later, in his job as a college basketball referee,
Bill Vinovich when asked if it was a pass interference – "I don't wanna talk about that stuff" pic.twitter.com/1rz4IpiKMn

— matt (@MattMoon00) January 25, 2019
After the first media timeout, referee Bill Vinovich asked a group of BYU students to take down a sign that said "Don't screw these Saints, Bill."

Excellent line from @boneyfuller tweeted earlier today.

— Jarom Jordan (@jaromjordan) January 25, 2019
Which then led to this inevitable response:
So he saw that sign in the stands but couldn't see this call on the field? pic.twitter.com/MfCkQtLggp

— Kenny Miller (@thekennymiller) January 25, 2019
---
The NFL, once again, is managing to succeed in spite of itself. Roger Goodell (pictured)
 is finishing the second year of a five-year, $200 million contract to be the public face of the league. It's been his job to negotiate the various broadcast & marketing contracts, solely to benefit the owners. Really, I'm amazed people think asking Goodell for anything will result in a positive answer, unless that answer involves giving the league good PR, like hurricane relief or giving old people & "American heroes" tickets to Super Bowls. His official twitter account only had four tweets from the entire 2018 season.
Plus, franchise owners are hardly paragons of virtue. Beyond the ones that top the list as "not evil" – Paul Allen (dead); Pat Bowlen (vegetable); Clark Hunt (believes in Andy Reid) – you have top-tier a-holes like the California Kids (Mark Davis, Jed York, Stan Kroenke & Dean Spanos) who never met a dollar they couldn't try and siphon out of a community.
[The last two jerkoffs are getting their own day on Thursday.]
Don't forget the "care & concern" for player safety by continuing to maintain Thursday night football, which is paying the league obscene sums to perpetuate the myth that players don't need a week to recover from playing an average NFL game. Putting more product on display is often alleged to be one of the reasons behind declining ratings & interest, because the majority of games have been bad, proving there's a fine line between showing enough to attract casual observers & being desperate for attention and driving people away. CTE and concussion protocols have caused people to question their fandom, but not enough have been impacted by that to draw a line. And the league choosing to promote "recovery stories" outside the concussion narrative, like Ryan Shazier, keeps the focus off the actual problems associated with having played football and the future it holds for those players.
I still enjoy going to NFL games, but I admit I'm clearly in the minority. Driving three hours each way to Seattle is a chore, but it helps that the entire time I've had my tickets – since 2010 – the team has been entertaining & committed to putting a good product on the field. Ticket prices have stayed relatively modest, and the benefit of a relatively new stadium means I don't have to put up with the bullshit of personal seat licences. But there are times when I look at the team coming into Seattle and make my attendance decision based upon that. And that is the real problem the league has, because fans can lose interest even if their team is good, or at least "not bad". I salute folks like Redshirt who are able to stay fans of a team that needs a death in the ownership in order to improve on the field.
The league has plenty of problems, but all of them combined don't lead up to fan revolt. Instead, the divide & ignore approach to dealing with individual issues has allowed them to sail along. And that's why that cocksucker is always smiling, because he's cashing his cheques and laughing all the way to the bank.