Latest posts by Beerguyrob
(see all)
I went away on vacation this Christmas, and abandoned the site for a couple of weeks. In exchange for that kindness, I promised I would write up a post about said experience. I've been saving it for a day bereft of content. Save for Low Commander's excellent post on his latest beerventure, today is such a day.
As you may recall, I dragged my lovely wife across Scotland for my 50th birthday. Well, the bill came due for that adventure, and notice was given that a Christmas trip was preferred. I wasn't opposed to the idea – we've gone away before / abandoned the relatives during the holidays – but I had tickets to the World Juniors tournament, and was looking forward to spending the days after Christmas ensconced at Rogers Arena watching 18 year-olds kill each other in the name of hockey nationalism. But I had to be coy in working out the travel dates, in order to avoid losing too many opportunities for selfish enjoyment.
She decided on New York. It made sense, as we have done LA, San Francisco, Palm Springs (mom) & Chicago in the past. She wanted Broadway, Times Square, the Macy's windows, and the arts & culture you don't normally find on Canada's west coast. So, as the family road trip planner, I had certain objectives:
plan the route

must be direct flights; on Air Canada

provide hotel options
scope the events

plays; musicals; sporting events

book the tickets
The route is always the key. If you, or your partner, have ever had access to an airline lounge, then you know that even that little luxury can make or break the departure experience. Given her corporate job, she has to take a number of flights each year, and Air Canada is the major airline up here, so living by their rules is key to travel survival. They have five categories:
Prestige 25K
Elite 35K (Star Alliance Silver)
Elite 50K (Star Alliance Gold)
Elite 75K (Rouge)
Super Elite 100K
This shit matters in Canada because airline credit cards usually only qualify someone for the lower categories. Being able to hit the Gold level means you get access to all the AC / Star Alliance lounges in any airport. She wanted that category and, as her travelling companion, anytime you can get away from the sneezing children & old people in the departure area, so much the better. Luckily, I was able to remember she had a discount code from the time they "misplaced" one of her bags. Then I compared the flights to the hockey schedule; the games started on December 26th and ran all the way through until January 5th. The choice was obvious – leave immediately after school ended on December 21st.
So I dialed up the website, checked out the three airports & their direct flights from Vancouver, and picked a Newark arrival that allowed us to get 115% of the miles available for the flight, thanks to the discount code. Plus, it left at 8:00AM on December 22nd, arriving about 5:00, so we'd get some evening time on the day of arrival.
Next was selecting the hotel. I didn't want to book any tickets for things without knowing where we would be staying. I let her scroll through Expedia, but also booked a Doubletree in Midtown that I could get refunded in case she made her decision too late. Luckily, she looked at the options available – she wanted Midtown; a kitchenette; near a subway line – and chose the Staybridge Suites on 40th between 8th & 9th.
A perfectly cromulent hotel with a free buffet breakfast, across from the Port Authority, right on the A,C & E lines. More importantly, now that I knew where we were staying, I could start booking outings & events.
**looked up NFL schedule for Week 16**
Why, the Jets were playing the Packers. I knew she would want to go, since she enjoys going to Seahawks games with me, and we did go see the Hawks & Patriots play in Foxboro a couple years prior, and the Packers & Bears in Chicago last year. So there was Sunday, December 23rd taken care of.
Broadway. Now, I enjoy the theatre, but I'm not going to go see something simply because my friends in the Pride parade say I MUST. All WineWife knew about was "Hamilton" & "To Kill A Mockingbird" – one of which only has scalper seats available, and the other just opened & didn't have anything available until March. So, it was research time:
looked up 2017 Tony Awards
looked for actor names I recognized
read synopses of the plays available
I settled on "The Ferryman", starring Paddy Considine,
who my wife remembered as the guy shot in the head at Victoria Station in the third "Bourne" movie. Since she loves the Bourne movies, this was another good pick. And they had a show on Christmas Day, so we wouldn't have to wander the streets looking for something to do on a stat holiday evening. Boxes ticked.
At work, a colleague found out I was going to New York for Christmas, and proceeded to empty her soul at always wanting to go to New York at Christmas, and go see "La Boheme"
at The Met – like in "Moonstruck".
Now, I'm not much of an opera fan, and people have tried to get me to it before
but for the sake of trying to make it a wonderful trip, I looked into tickets. They were showing an abridged version of "The Magic Flute" on December 27th, the night before we were due to fly home. I had two choices for tickets – down front for $250 each, or fifth deck, back row for $35. You don't even have to ask.
With that out of the way, the only thing left to look into were hockey tickets, because you can't do New York without trying to hit up a Rangers game. (No offence to Devils or Islanders fans, but c'mon.) Now, I've made no secret of my feelings towards the Rangers on this site
but "when in Rome". Looking at their website, the only games they had available were the 23rd against the Flyers and the 27th against the Blue Jackets. Before buying the opera tickets, I double checked prices for the Rangers – stadium window was $120, and resale was going for $150. NOPE! After buying the opera tickets, I went back and looked at "other events", and was treated to the most glorious option imaginable,
WRASSLIN' AT THE GARDEN! I could barely hit "purchase" fast enough on the $30 seat in the upper deck. This was going to be rationalized as a Christmas present to myself…and sold to the wife as a chance for her to go see something she knew I'd hate. Time would tell whether my logic was sound.
So, tickets in hand, all that was left was waiting for the day of travel to arrive.
---
Now, school finished on December 21st at 5:30PM. We flew out the next morning at 8:00AM. Since the flight originates in Sydney, Australia, we were dependent upon that flight getting to Vancouver on-time in order to make the direct connection to Newark smoothly. But before that – US Customs. Now, for Americans, this may sound like a foreign concept, but to enter the US a Canadian traveller usually has to clear US Customs before boarding the plane. I'm not sure if it works the same way in Europe, but it's so routine here no one pays it any mind anymore. Luckily, the NEXUS card helps smooth the process, and the Customs guard snickered at my "I owe her one" crack about the reason for our visit. Through the checks & onto the plane!
We landed at Newark, shockingly on-time, and made our way to the train in to New York.  My wife, who is the far-more seasoned traveller, reminded me that you have to buy "New York Penn Station" tickets, because there is also a "Newark Penn Station". Why? Because "fuck you, that's why", distilling down the FAQ page on the New Jersey Transit website. It takes about 30 minutes & three stops to get into NY Penn Station from Newark International, and there's not a picturesque shot to be had, so coming in at night was a good choice. We emerged from the chaos at 33rd & 7th, and walked the 8 blocks to 40th & 8th. It was a crisp, cool night,
and that gave us the idea to go wandering around after we checked in.
The Staybridge Suites is, as I was to discover, like most Midtown, moderately-priced hotels: tall & thin, with three elevators that are fine 21 hours of the day but take forever during the breakfast/checkout times. So, with WineWife having stayed at a couple of these before, we asked for something on a mid-teens floor – high enough to be quiet from the street; low enough to make hiking down not so egregious. Whatever – it was meant to be a simple HQ from which to sleep after daily adventures.
So we went out & walked around for a bit. We made our way over to Bryant Park to catch the Winter Market they had going on.
It was a nice little open-air garage sale, complete with Tchotchke booths and food stands. I didn't figure on skating, because why break my ankle two hours into a week-long vacation? We feasted on empenadas & corn cakes, and then hit up Whole Foods for some additional sustenance
before heading back to the hotel.
---
Sunday was game day. For once, I didn't mind the eastern time zone start time, because 1:00 meant we could ease our way back down to Penn Station for the trip over to Met Life Stadium. The journey itself wasn't an ordeal; it just involved remembering where to get off & where to walk. You get on the same train we took in from the airport and get off at the first stop, Secaucus, and then transfer to the Meadowlands Shuttle train. Of course, the Jets season being what it was, there were quite a few Packers fans unafraid of showing it loud & proud.
The stadium itself is quite the edifice. First off, the stories are true – it is built in the middle of a swamp. At least it was semi-frozen the day we went; God-forbid you go in September when the flies are still active. But the train drops you off right at the entrance, so there's no hiking through the woods to grandma's house.
The seats? Not bad.
Prices were still ridiculous, but waiting until the Wednesday before we left resulted in a large trove of reduced prices to wade through. Because, y'know, it was "Fan Appreciation Day". These cost $95 each (fees included), but were essentially free because I sold my Hawks-Chiefs tickets and transferred the money over.
It was a pretty good game – the Jets blew a 11-point lead in the 4th quarter, tied it up with seconds remaining, and lost in overtime.
More importantly, they had drinking stands for both me & Winewife.
After getting back into the city,
we spent the evening being tourists and went to look at the Macy's windows.
Then we decided to brave the crowds & go see "the tree". After asking a "guide" for directions,
we made our way through Times Square,
past Radio City & NBC,
into the morass of people that is the 30 Rock Plaza.
I have never been punched in the kidneys so many times by so many Filipino ladies. Nonetheless, we accomplished the goal & returned to the hotel looking forward to the next day.
---
We had nothing booked for December 24th, so I let WineWife pick the direction. She chose to wander us down to the Flatiron building, which is kinda cool to look at if the light hits it correctly,
and we grabbed a light snack at Mario Batali's "Eataly"
which is exactly as pretentious as you'd expect.
Why buy a Costco-sized brick of Tillamook extra-aged white cheddar when, for a few mortgage payments more, you can obtain rare artisan Finnish reindeer cheese? But, like compatriots "Bourdains" and "McEwans" (Canada), the thing now is to have your own gourmet shopping & dining "experience" attached to your brand.
After that, we worked our way over to the Chelsea Market, which – to me – was a series of over-priced curio shoppes designed to lure in tourists drawn to the neighbourhood by an outdated tourist brochure. From there, it was a short walk down to the new Starbucks Roastery in the Meatpacking District, which her work colleagues had visited. Now, I don't drink coffee – never have; tried it once, but it was "mining camp coffee" at a worksite outside Marathon, Ontario when I was 13, and it looked like sludge & tasted like tar – but the promise that it contained a bar encouraged me to drop my guard. From the outside, it was unassuming
but inside you can see the 23,000 square feet it takes up.
The bar staff all dress like extras from "Newsies",
and most of the cocktails are coffee-centric. Keeping to standard, she had a glass of wine & I had a pint. It was a fairly high-end joint, but full of tourists & lookie-loos, so that takes away from the ambiance. Plus, the whole place smells like coffee, which is a real turn-off for a guy like me.
I wanted to walk the High Line back, so we did.
It was much more pleasant than smashing into people on the sidewalk.
For dinner, we ate across the street from the hotel at Inakaya, because it was likely to be more Japanese than the "Japanese" we get in Vancouver.
It was pretty damn good. The two guys beside us who were clearly on date #3 were having a devil of a time trying to agree on what they should share. I suggested, "more booze?", to a resounding kick under the table.
We still had time to make our way up to Bloomingdale's, so we set out past Grand Central,
and made our way north. Their exterior displays were nice, but not as ornate as Macy's
but they had photo globes inside that you could pose in,
and leave helpful comments on their Facebook page about.
---
Christmas Day brought sleeping in to the forefront.
But we had the play that evening, so to celebrate Christmas we walked up to & around Central Park. We clearly weren't the only people with that idea.
Still, at 4 degrees Celsius, the crisp air made the journey & views worth it.
Being in New York, WineWife could sate her craving for black & white cookies, so we decided to picnic in the park. That necessitated a side trip over to Zabar's.
Lemme tell you: if you want a solid sample of mainstream Jewish deli, you don't get finer.
Corned beef on rye? Check.
Potato knish? Check.
Raspberry strudel? Check.
Plus, since my mom is 80 and wanted "shopping bags" as New York souvenirs, getting her one from here solved many problems. Anyway, we took our bounty and had a lovely picnic in the park, to commemorate that we did the exact same thing 10 years earlier. And then we strolled back down to our hotel. All in all, a lovely afternoon – and a damn sight better than a Christmas surrounded by (what we found out were) 9 screaming children.
The play was rock-solid. The Jacobs theater
apparently used to be the Royale in a previous time. It's a small, intimate setting, with the upper deck having a bird's eye view of the stage,
which in some cases accentuated the play because the angle down below didn't let you see what was happening in the background.
Three-plus hours with two short intermissions. We earned a post-show cocktail. Taking advice from a Vancouver theatre aficionado, we walked two blocks up the street to The Rum House.
And what does one get at The Rum House? Why, a Dark & Stormy.
I'm not a monster.
---
Boxing Day, or December 26th for former colonials, was "museum day". Once again, WineWife was given the options. She had The Met, The Frick, and The Guggenheim on her list. As we walked over to Central Park, she gave no clues. As we passed The Frick, that narrowed the choices to two. And when we crossed the street to go up the steps, her choice made sense.
The Met. It's the biggest, has the stuff she likes to see, and has ever-changing special exhibits. Knowing that I had wrestling to attend later that night, what damage could five hours on the other end of the arts spectrum do? Besides, I loves me some Monet,
and they were having a Delacroix special exhibit,
so I had a good time.
At closing time, we made our way across the Park to the subway – me to go back to the hotel before hitting the Garden; her to stop at Times Square to grab discounted play tickets. ["The Lifespan of a Fact", as it turned out.
Bonus – the theatre was the old Studio 54, renovated to become a modern entertainment venue called "The Roundabout".]
I made my way down to the Garden, which was all decked out for Christmas.
Fetched me a beer & a t-shirt,
and made my way to my seat.
Even though I was sitting pretty high, you still got a good feel for the action. Among the highlights was a three-way dance with Finn Balor, Dolph Ziggler & Drew McIntyre,
a fairly good three-way tag match,
Seth Rollins & Dean Ambrose in a cage,
and headlined by Ronda Rousey versus Nia Jax.
It was a pretty good house show. All the faces won, except for Rollins – because storylines. The people sitting around me were into it. Screaming at every heel; buying all of the merch. Vince made his money that night.
December 27th was our last full day. There were some shops she wanted to hit, so I had to figure out an idea for getting some adventure mixed in. Since she wanted Second Avenue, I figured why not try the Roosevelt Island tram? I'd always seen it on TV, and the only way to be let down was to do it. So, we made our way over.
We have a similar apparatus in Vancouver, called the Grouse Mountain Skyride,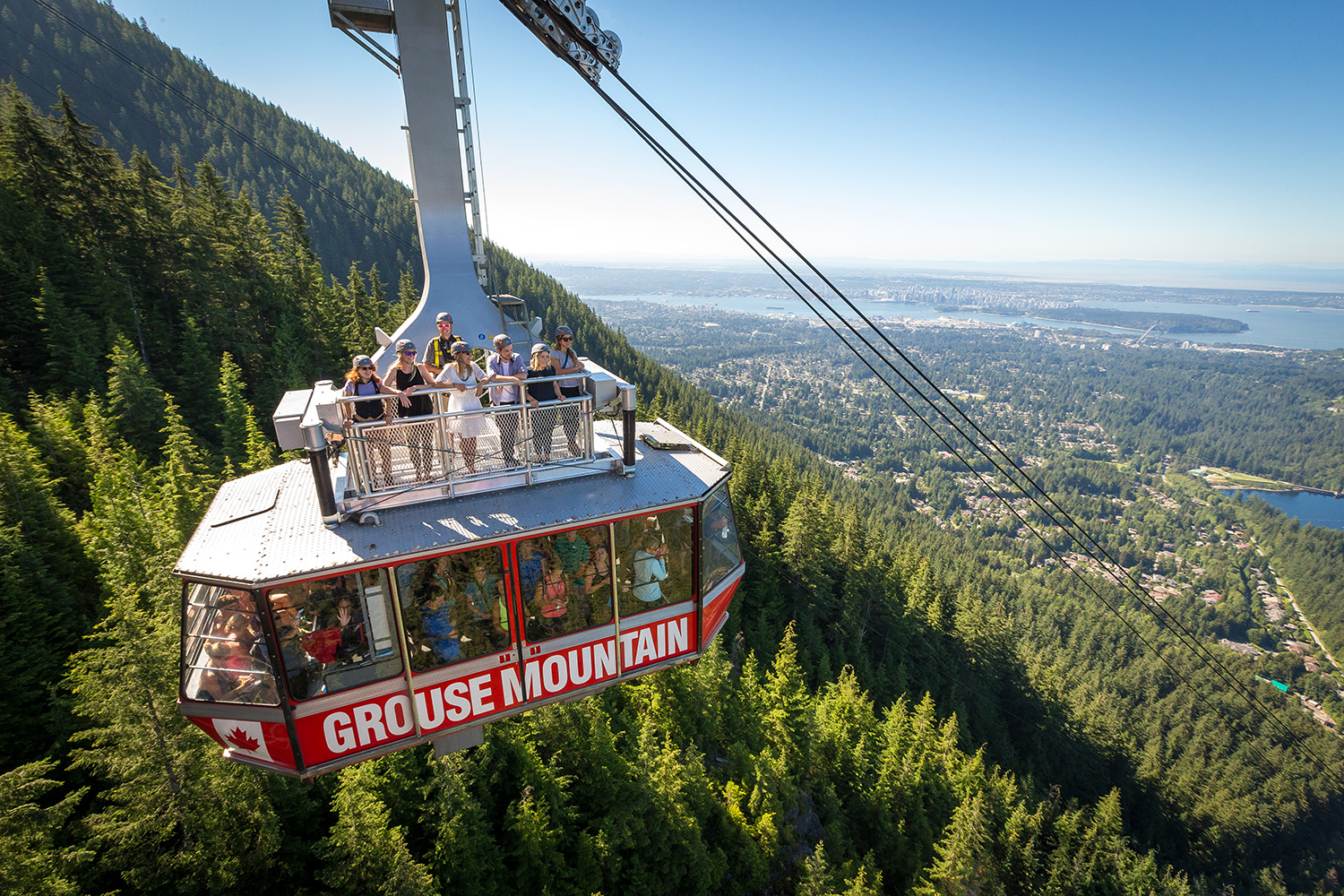 which is used mostly by skiers in the winter & hikers in the summer. The Roosevelt Island tram is used year-round & mostly by tourists, since it costs the same as taking the subway, which also stops on the island. Nevertheless, I enjoyed it. It does have a hell of a view from inside the car.
And since we were there, we could take a stroll around for about an hour before we went back & hit the shops.
After that, it was back into the chaos of the post-Christmas shopping.
That evening was the final event we had booked – The Met Opera.
As purchased, it was The Magic Flute. For those of you unfamiliar with this Mozart spectacular, I'll give you the Wikipedia synopsis:
In this opera, the Queen of the Night persuades Prince Tamino to rescue her daughter Pamina from captivity under the high priest Sarastro; instead, he learns the high ideals of Sarastro's community and seeks to join it. Separately, then together, Tamino and Pamina undergo severe trials of initiation, which end in triumph, with the Queen and her cohorts vanquished. The earthy Papageno, who accompanies Tamino on his quest, fails the trials completely but is rewarded anyway with the hand of his ideal female companion Papagena.
What mattered most was that we were doing another "New York" thing.
The Opera is just like it's portrayed in the movies, the classic edifice (above), the giant chandeliers,
and the red velvet interior of the theatre. Now, we sat right at the very top
because I wasn't going to drop $250 for closer tickets to something I wasn't that interested in. The Opera itself ran a little over 2 hours, which was more than enough. Not gonna lie – she did have to tap me once to bring me 'round.
---
We flew home the next day. It was the reverse of getting into town, but raining – so we took the subway down to Penn Station. A few stops later we were back at Newark International awaiting our flight. And that quest to get her air miles which predicated part of the rationale for this trip?
Upgrade to first class! That's a pod, and that's a double rye & Coke while watching "Deadpool 2". I was the most pleasant passenger on that flight.
Vacations – highly recommended.