Latest posts by Beerguyrob
(see all)
It's funny that Halloween was last Saturday, because one of my old story topics is making a return appearance to an NFL roster.
That's right, 41 year-old Josh McCown is getting the phone call he wasn't waiting for to return to the league. The Texans have apparently signed him to be DeShaun Watson's backup. He was staying at home but on the Eagles practice squad as an emergency "in-case" option, and earning $12,000 per week for the privilege. But the fact that Houston is apparently two hours drive from his home means he'll get to earn a nine-week percentage of the league-minimum $1.045 million, while watching the carnage Bill O'Brien left behind plays its way out.
Besides the Eagles, he has also played for the Jets, Browns, Buccaneers, Bears, 49ers, Panthers, Dolphins, Raiders, Lions and Cardinals. The Texans are his 12th NFL team, and he has only played for two above-.500 teams in his entire career.
Colin Kaepernick, meanwhile sits at home wondering why the phone doesn't ring, but smiling at pictures of Donald Trump breaking down at press conferences.
---
NFL Broadcast maps: (courtesy 506sports.com)
CBS EARLY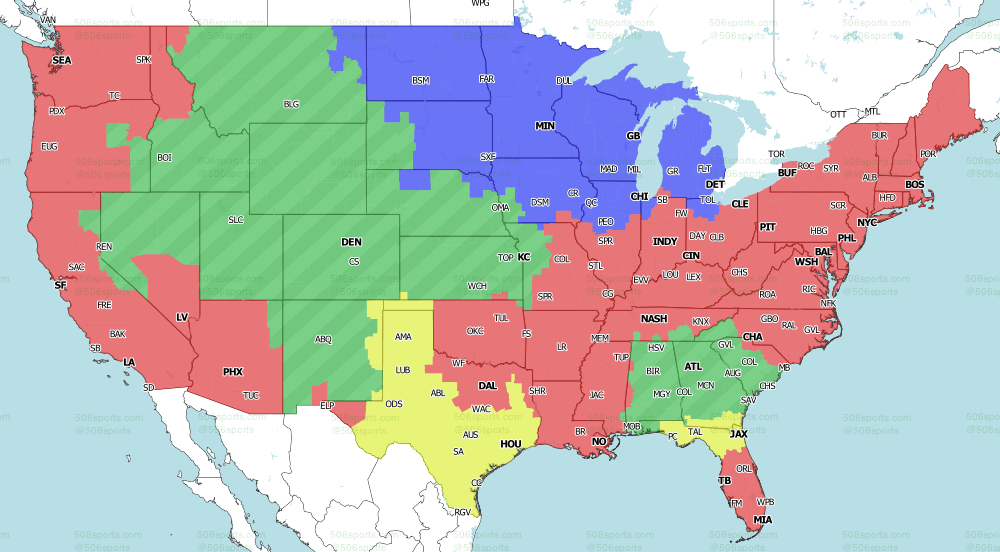 █
Anchorage
█
Fairbanks
█
Honolulu
█ Baltimore @ Indianapolis – Ian Eagle, Charles Davis
█ Detroit @ Minnesota – Kevin Harlan, Trent Green
█ Denver @ Atlanta – Greg Gumbel, Rich Gannon
█ Houston @ Jacksonville – Spero Dedes, Adam Archuleta
——————————————-
CBS LATE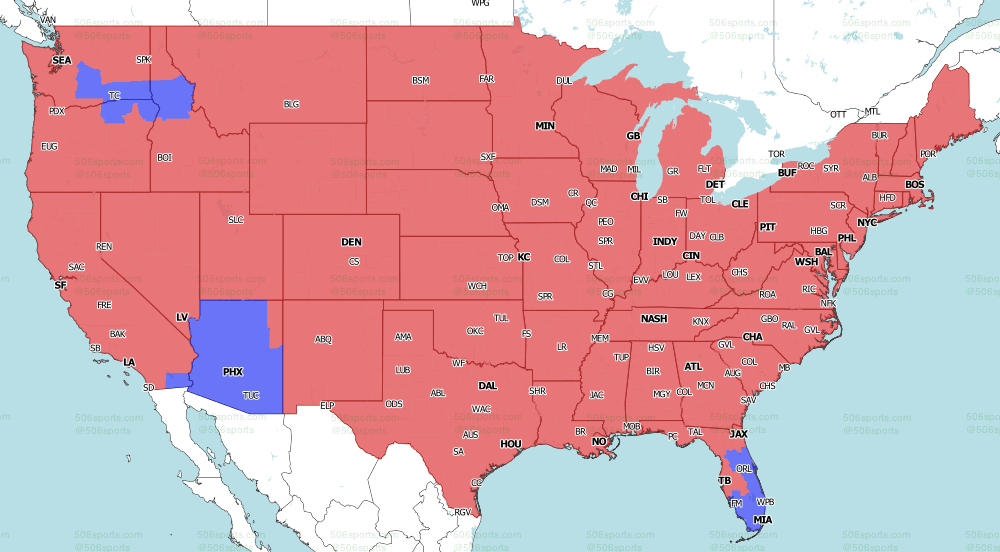 █
Anchorage
█
Fairbanks
█
Honolulu
█ Pittsburgh @ Dallas – Jim Nantz, Tony Romo
In-game action:
Does Hippo have odds on a drunken Jerry bursting into the box begging Romo to return?
Over/under on crowd shots of "Tony Come Back" signs? – 4.5
█ Miami @ Arizona – Andrew Catalon, James Lofton
——————————————-
FOX SINGLE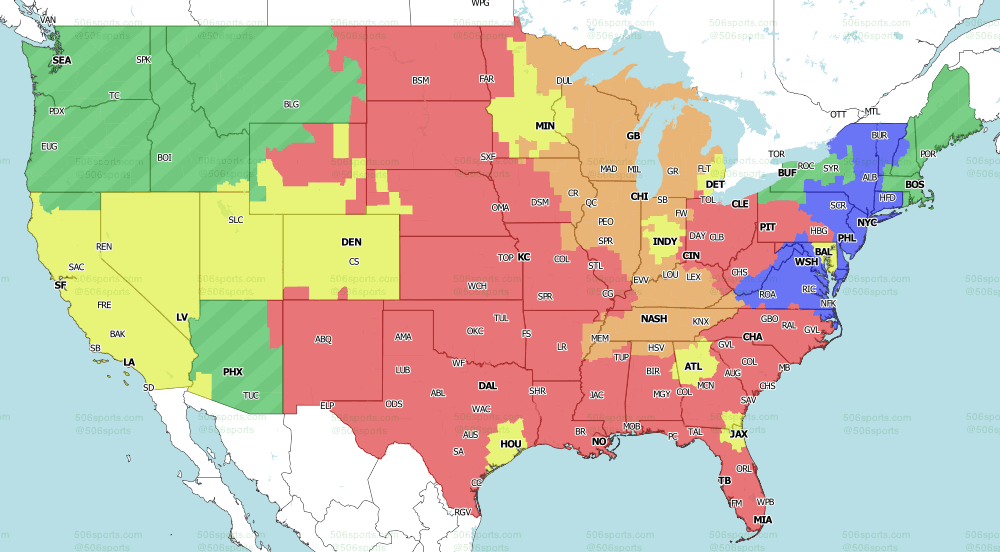 █
Anchorage
█
Fairbanks
█
Honolulu
█
Carolina @ Kansas City – Kevin Burkhardt, Daryl Johnston
█
NY Giants @ Washington – Kenny Albert, Jonathan Vilma
█
Seattle @ Buffalo – Chris Myers, Brock Huard
█
Chicago @ Tennessee – Dick Stockton, Greg Jennings
█
Las Vegas @ LA Chargers (LATE) – Joe Davis, Mark Schlereth
---
Tonight's sports:
NCAA:

Texas A&M at South Carolina – 7:00PM | ESPN
Baylor at Iowa State – 7:00PM | FS1
UCLA vs Colorado – 7:30PM | ESPN2 / TSN2
Clemson at Notre Dame – 7:30PM | NBC
Stanford at Oregon – 7:30PM | ABC
Tennessee vs. Arkansas – SECNetwork / TSN4
Washington State at Oregon State – 10:30PM | FS1
Washington at California – 10:30PM | ESPN

Fisticuffs:

PBC Fight Night:

Luis Ortiz vs. Alexander Flores – 8:00 PM | FOX

UFC Fight Night:

Santos vs. Teixeira: From Las Vegas

Prelims – 8:00 PM | ESPN+ / TSN
Main card – 10:00 PM | ESPN2 / TSN
Oh, and just like four years ago, Dave Chapelle is hosting SNL. This time, the Foo Fighters are the musical guest.
It's looking like a solid Saturday night. Don't get into too much bourble.