Back in the XX Century, university class schedules converted Thursdays into Drinking Days. They've been that way ever since, confirmed by Friday hangovers. Recently, Wednesdays became Positive Days, thanks to tWBS's "Wednesday Motivational". Man I miss that guy.
/presses Play
/crushes the Mute button
Lately it's been suckier than a Jets late afternoon game. The Wee Baby Seamus would have advised to concentrate on the good stuff. That's fair. I'll pause Seethe Fest 2020 and let's talk NFL wooo!
Random Weekday Night Football
The Covid-19 positives throughout the NFL have brought multiple MNF doubleheaders and Tuesday Night Football.  It's great! Sadly, so far there's been only three days of games per week. It's still almost half a week of pro fitbaw, so we good. For now.
Without fans in the stadium, the NFL has changed schedules at will. Now it's the perfect time for the league to exile the NFC East teams from the remaining 2020 ____ Night Football TV productions. (Get a stream like the rest of us, Iggles / 'Boys / Team / Jints fans!) Phasing out from networks this gaggle of blech should be out of common decency. But let's be real: any NFL plan to do so would probably involve a tactical contagion. Nothing to wish for, of course of course.
But I wouldn't put past the NFL its keeping of a Contaminated Pelts and Jerseys Strategic Reserve.
Fantasy Football
Since the KSK days, every season has featured the dead horse of "Nobody cares about your fantasy team!" This season, I've read a lot of fantasy talk everywhere without that tired gripe or, worse, self-own. Thank you, Gamblor, for making us embrace even tighter this mindless diversion.*  Social distancing and fuck-where to go get the assist for this year.
* FF is random fun, unless you're getting Ws. Then it's a game of uncanny GPF (Garbage Points Foresight).
Confession time, I have yet to meet three mythical persons: the quiet Cuban, the gay Dominican, and the stoic FF GM. Being loud, obnoxious, whiny about injuries and delusional about RB platoons it's the birthright of every FF GM. No social good is done by keeping those gripes to yo'self, unlike money problems or numbskull children. Go nuts! If anything, Covid-19 byes outta nowhere should amplify the theatrics.
Furthermore, I'm willing to trade WR Fulgham for a 2nd string RB. Wink.
Intermission – Local News
I've been going without cigarettes since the Week 1 Sunday. I've been saving aboOt $60 (USD) a week, plus getting hella other benefits. Mostly, the topic allows for self-aggrandizing while texting ladies with Web profiles filled with workout pics. My marriage lasted 20 years; being Philip Morris's concubine, 28.
[LEFT BLANK INTENTIONALLY]
I converted:
Still Life without Goya (watercolor, 2020)
Yes, my pantry is Goya-less. By domicile, I cannot vote against 45—but I did SOMETHING. Fuck Donald Trump, everything he stands for, and anyone who supports that racist piece of shit.
Side note: La Mansión will not be serving salted cod stew nor chicken / veal piccata for the rest of 2020. Those goddamned little capers make the dish. I won't go Roland!
fó
The NFL Game Is More Interesting Now (IMHO)
I've been thinking a while about this. My conclusion: I believe it.
I started to watch the NFL seriously in the mid-80s. Obviously, the game was more violent in the XXth Century. In today's NFL, not an original thought, most Hall of Fame safeties would be Burficted out of the league for treating the middle of the field like a piñata farm. And here's the thing: I stopped missing it.
Yeah, the yearning for blood decreases with the self-delusion that the game is less dangerous now. But there's plenty of new stuff that adds a lot interest—the not-morbid kind; go figure.
The current extra point(s) rules, I love 'em, make the endgame less predictable. The 33-yard XP, right now, is a tense play with chaotic potential.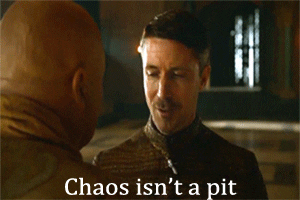 Via giphy.com
I also feel it has made kickers get more yips. Granted, it's an issue easily resolved by data, but I got something better—a rhetorical question: since when, do you remember, at least one kicker hitting the goalposts every freakin' Sunday?
Think about it. I'll wait.
[tries to open nicotine chiclet packet with nails, fingers, teeth, this thing,
, a knife, teeth again, lighter, pops packet in mouth, chews; spits burnt plastic, paper and foil.]
Huh? Told ya.
Then there's the 2-point conversion. Without it, an 8-point difference, with 4 minutes remaining, is time to beat the traffic or to make a complicated sandwich (i.e., one that requires a sharp knife or heat). It adds another layer of strategy, which is great!
Take what happened last Sunday in TEX @ TEN. Should you go for two, and the nine-point lead, with less than two minutes left? I can understand the reason for going "Hell Yeah".** I would've kicked the XP, gone up by 8 and make the other team score a TD and convert the deuce for overtime. If the kicker misses (a lower percentage outcome), I'm still up by 7. No biggie.
** Testosterone, which is fine by me. Hippofant did the math and found a 2% difference between the chance of winning in going for 2 and kicking the XP. Personally, I wouldn't put much stock between football outcomes differing in less than 15%. In pro football (IMHO), all potential results are ultimately decided by coumplex variables such as play design, matchups and execution.
BONUS NUMBERS RANT: "Win Probability" is total bullshit. Stories about "Win Probability" can only be tolerated by treating that "stat" as Gospel. Otherwise, it's total inanity and nothingness. "Ooh, lookit Falcons!  98.3% WP with 3 minutes remaining against Dallas. Ha ha ha what a surprising outcome!" In short, WP,
Another offset to the decrease in violence (IMHO), is more athletic play on the ball. I have this memory (say, mid-80s all the 90s), of fumbles being mainly caused by a defender's decapitation attempt.  Maybe it's my feeble mind stuck on Charles Tillman coining the Peanut Punch; I doubt he was the first one to do that. But! That defensive approach (go for the ball, avoid the concussion), seems prevalent now. And yeah, for competitive reasons, I prefer that to JACK 'IM UP. Besides, defenders trying to strip the ball, violently, is badass.
Another athletic development is the toe tap / drag. Again, I admit to having a weak brain, and recency bias is my oxygen. But ever since Santonio Holmes caught that TD in the Cardinals Superb Owl, we've been living in the Golden Age of Receiver Body Control. I mean, right now, even the 2nd string TE on your team toe taps well!
Please correct me if it has been always like this, because I do not remember it that way. But make no mistake: the road to happiness is paved by self-delusion. Blue pills for all!