Latest posts by Beerguyrob
(see all)
The problem with following Senor's post about the Jets is that he used all the good words & euphemisms for "bad". But what about other teams that suck?
The Atlanta Falcons surely qualify for such words, as they were in a Super Bowl as recently as… oh fuck it, here's the graphic so we can all laugh at their misery again.
They will – and should – have to live with that forever.
Anyway, let's check in on head coach Dan Quinn.
Okay, then let's check in on interim head coach Raheem Morris.
That is the look of a man who is happy to answer your stupid question, and wants to know why you weren't that inquisitive when Dan Quinn was the coach.
At this point, even Jeff Fisher was an upgrade on Dan Quinn, as the players had clearly tuned him out – if an 0-5 start can tell you anything. But Morris has been waiting for another crack at a head coaching job since being handed the reins to a dogshit 2009 Buccaneers team that celebrated the firing of Jon Gruden by going 0-7 to start the season & finishing 3-13. That he got them to 10-6 in 2010 was a miracle considering he got the one good year Josh Freeman ever had, because he was fired after the 2011 season when Josh Freeman turned a 4-2 start into a 4-12 conclusion.
So far, Morris has gone 3-1 since taking over for Quinn. But with the Falcons sitting third in the NFC South, they are four games out of first in the division and are currently 12th-place in the conference. They do get a Saints team this weekend that has a Drew Brees-with-a-collapse-lung, so they have a Chargers doctor's chance of taking this game. After that, however, it's the Raiders, Saints again, then Chargers-Bucs-Chiefs-Bucs to wrap up the season. They have the fifth-highest strength of schedule, and facing divisional foes on their way out of the season doesn't help their cause. You know Brady wants to drop more poundings on Matt Ryan.
The playoffs are but a dream for this team, and the economics of the situation – a $195 million cap hit for 2021 already in place – means that Morris will have to find some way to get better production of out the $66 million couplet of Ryan & Jones before the Falcons can commit to a rebuild. Given the gravity of the situation, and the unlikelihood of his survival given propensities for new GMs to hire their own coaches, the best Morris can hope for in his likely short tenure is to audition for one of the likely new openings at the end of the season. The fan sites are already talking about his possible replacements. I predicted 6-10 in my Webby-ignored season preview, and that still looks like the likely outcome. But if Morris can finish the season with six wins, he should be able to turn this silk-purse-out-of-a-sow's-ear performance into his own head coaching job somewhere else. Then he can get to steppin' on his own terms.
It's going to be hard work. There is some discernable talent on this team, but there is some ways to go before they can see confetti dropped on someone else again. Matt Ryan is projected to come close to another 5,000-yard season, and his TD/INT ratio is still at a 3:1 margin. His offensive line is relatively healthy, and IF HE WOULD FUCKING TARGET JULIO JONES MORE both fans & fantasy owners alike would be thrilled. The problem is that the Falcons haven't had a consistent #2 receiver all year. Calvin Ridley, the supposed #2, has been hobbled since Week 6 & out since Week 8 with a bad foot, and the rest of the guys I've never heard of – and I wrote the preview! This means Julio hasn't been really open all year, something his three TDs prove.
Their once-vaunted defence is still recovering from early-season decimation. They currently rank 24th in the league, and the only team worse than them at defending the pass is the Seahawks.
Grady Jarrett has seemed pretty-much alone out there, as guys like Takkarist McKinley were released (and subsequently picked up by Cincinnati but released after failing a physical) & Dante Fowler got close to the 'rona. Being so cap-maxxed out on the offensive side of the ball means they have to rely on a rotating cast to make up their defence, especially since their top two draft picks – CB A.J. Terrell (COVID) & DE Marlon Davidson (knee) – have missed significant time this season. Their defensive highlights owe as much to other teams' failings as to their own efforts.
And they have the most snake-bit owner in the NFL. Arthur Blank loves his team, and can be seen at every game actively rooting them on. But the man has no sense of timing (or rhythm). Any time you see this in the stands,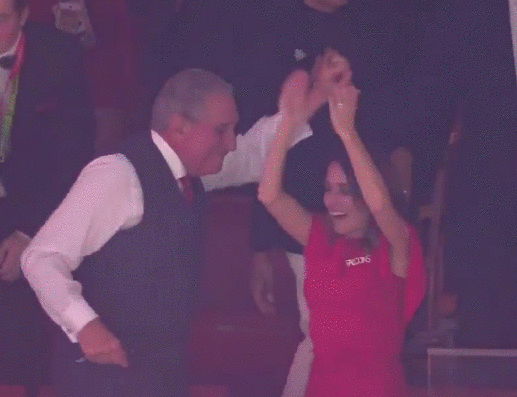 it means an almost-certain Falcons come-from-behind loss. It's gotten to the point that WineWife asks if he's started dancing yet, because she wants to watch the comeback. The man should just follow the Robert Kraft example – sign the checks, sit stoically upstairs in your private box, and fly somewhere else after the game for a celebratory handy. That consistency got Kraft six Super Bowls & one dismissed charge. But that's not the Arthur Blank way. The Arthur Blank way is to prematurely celebrate and never anticipate everything going to hell. The Power of Positivity might work for The New Day,
but in the real world that Bill Belichick coaches in, it results in nothing but sadness & hatred. His positive attitude might look good on TV, but when it comes to handing out trophies he'll be the one watching as opposed to receiving. Unlike Robert Kraft.
And that, Commentists & Commentettes, are your 2020 Atlanta Falcons – waiting for the season to end so most of them can go on to something somewhere else. In conclusion,