A Canadian man-child of indeterminate age, he stays young by selling alcohol at sporting events and yelling at the patrons he serves. Their rage nourishes his soul, and their tips pay for his numerous trips to various sporting events.
Latest posts by Beerguyrob (see all)
I hope you've enjoyed the week so far. Sorry today was a little late – work got in the way.
This third installment of the Third Annual [DFO] Hate Week is brought to you by what's left of the Grateful Dead, California Emissions Standards, and the 1-Eleven Neighborhood Crips,
a division of the Rollin' 100s, and your local South-Central security & valets, serving Inglewood and, soon, the Rams new stadium.
Just a brief reminder that while his name will come up occasionally, Stan Kroenke is getting his own day tomorrow, along with his rent boy Dean Spanos. So I will try to keep the hate focused on the team and not the bastard who makes them to easy to do so.
---
When you Google "LA Rams in the Super Bowl", you get one of three types of post:
Revisionist history that claims the "LA Rams" beat the Titans in 1999 & lost to the Patriots in 2001.
A lot of pictures of Terry Bradshaw avoiding a one-legged Jack Youngblood in Super Bowl XIV.
Warren Beatty winning that same Super Bowl at the end of "Heaven Can Wait".
RIP Dick Enberg
So I'm already mad at the Rams before I even start researching why I should hate them in the first place.
Let's play a name-association game:
                                         LA or St. Louis Ram?
                                         LA or St. Louis Ram?
                                         LA or St. Louis Ram?
                                         LA or St. Louis Ram?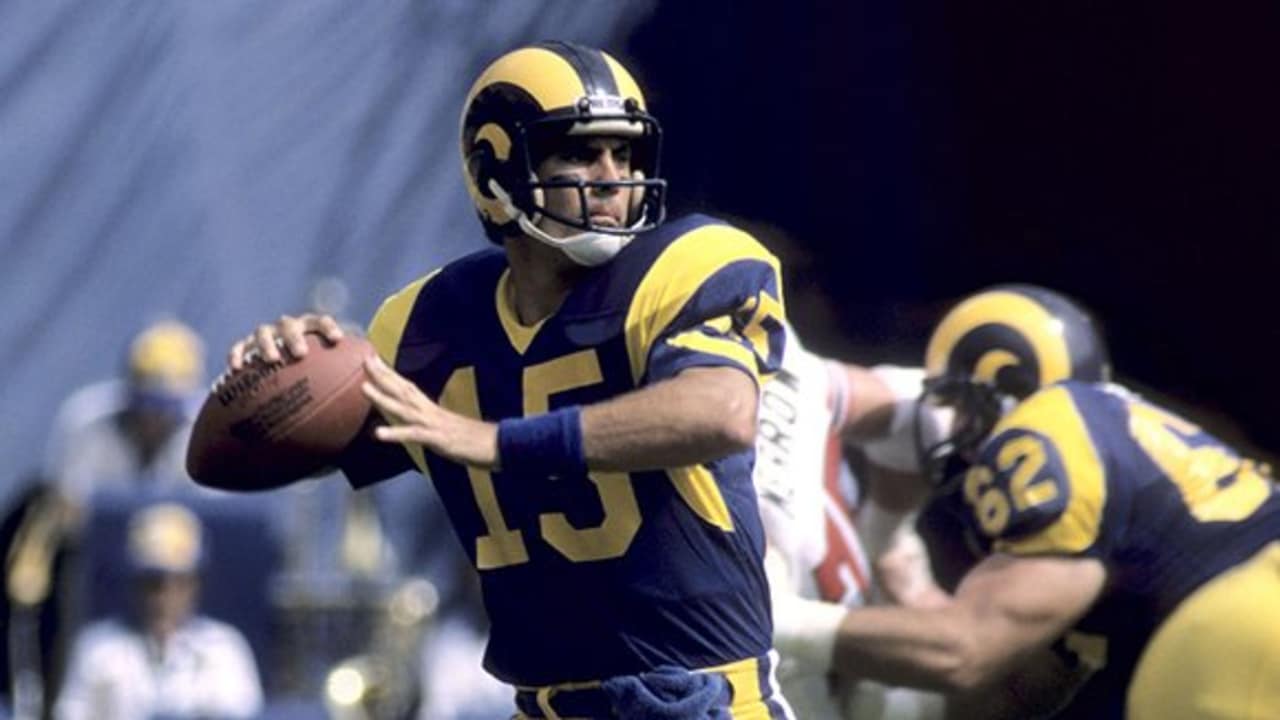 LA or St. Louis Ram?
If you can tell the difference, then you've been paying attention. Also, you probably don't live in LA, because most current Rams fans couldn't pick any of these guys out of a lineup. (Well, they might have thought they once picked the black guys out of a different lineup.) The LA Rams have a history, but no playoff glory. Their Super Bowl heroes are from St. Louis. No amount of broadcast repeating "Rams Super Bowl" should obfuscate the fact that the Super Bowl Champion "Rams" are not from LA.
Yet.
Remember that going into The Big Game.™®©
---
The whole reason for this dichotomy is a wonderful, delightful person known as Georgia Frontiere,
a competitor to Nancy Reagan (nee Davis) for the cognomen, "Blowjob Queen of Hollywood".
Not many people remember that, after she was a failed actress & lounge singer, she was married to Carroll Rosenbloom, then-owner of the Baltimore Colts. She "encouraged" him to exchange the Colts for Robert Irsay's LA Rams, in a "trade" that occurred in July 1972. This was so she could live in LA and integrate herself into the Hollywood social scene. (So, she's also partly responsible for the Colts leaving Baltimore.) After his mysterious drowning in 1979, she inherited the Rams. In 1980, she both moved them to Anaheim and married her seventh husband, Dominic Frontiere.
Incompetent ownership resulted in incompetent management, leading to incompetent draft decisions,
which drove down attendance & led to her seeking new venues for her asset. Guaranteed profits & a cheap lease led her to St. Louis. [The LA Times has a pretty acerbic take on the whole affair here.]
They only had four winning seasons in St. Louis – the last in 2003. Her death in 2008 led to her children inheriting her majority share in the team, which they then promptly sold one year later to minority-owner Stan Kroenke, after he froze out the intended purchaser, Shad Khan. Internet Dad will fill you in on his assholery tomorrow, but suffice to say LA bent over to get the team back, so he left St. Louis at his first opportunity.
So, a history of bad ownership makes the Rams prime candidates for hate.
---
Coaching also makes this team easy to hate. Since their founding as the Cleveland Rams in 1936, this team has had 28 head coaches, and only nine of those had better than .500 records. Their only Super Bowl was won by Dick Vermeil, whose career record in St. Louis was 22-26, which includes the 13-3 record they compiled during the Super Bowl run. One of those nine is Mike Martz, and it's pretty telling that a guy with a 53-32 career record can't get another top job. None of those nine is Jeff Fisher, who almost buried this franchise upon their move back to LA by not recognizing that Jared Goff might possibly be the real fucking deal.
Their current coach, Sean McVay, has been their head coach for exactly two years, and has compiled an impressive 24-8 record behind a competently drafted offense and a Wade Phillips defense that is wildly overpaid because their all-pro QB is still on his rookie deal. He somehow survived working for both Grudens – Jon in 2008; Jay from 2014-16 – and Mike Shanahan on his way up the coaching ladder. But somehow he has become the lodestone by which all future NFL coaching hires need to be measured against. Just look at these headlines:
Jesus Tapdancing Christ. Look at all that knob-slobbery. I'd look up what Peter King has to say, but that would require reading Peter King, and I have no doubt he's made quite a mess of the Acela Quiet Car typing missives about Sean McVay.
Wasn't it just five years ago Pete Carroll was getting the same treatment after two Super Bowls and a defense that held on every play, only to have to undergo lineup changes once they realized they'd have to pay their rookie QB a shit-ton of money to stick around? How'd that financial ramification turn out?
Get back to me in five years to see how that flash panned out.
---
I've really got nothing against the players. Having watched the Rams play the Seahawks since 2010, I've mostly enjoyed watching the Seahawks roll over the Rams. In the last couple of years, the games have been much closer and, frankly, a lot better. Gurley, Goff & Donald are the real deal, and any team would be highly fortunate to have these guys to build around.
What I do object to are the short-term rentals they've signed on to so that Ann Walton's husband can win a trophy, which will drive up the value of the Stadium Seat Licences he's trying to sell to fill up his new stadium. Guys like  Ndamukong Suh get paid $14 million not because they are of long-term value to an organization, but in the hopes that they can both benefit from mutually prostituting themselves to the other. For Suh, it's a paycheque & a chance at a ring; for the Rams, it's a chance to be able to add "Super Bowl Champions" to the brochure:
Just so you understand:
For Reserved Seats, the price range for accompanying SSLs is $1,000 to $5,000 and season tickets range from $60 to $125 per game.
For Premier Seats, SSLs range from $7,500 to $15,000 and season tickets will be $150 to $200 per game. Premier Seats offer the next level of exclusivity after Club Seats, including dedicated access into the building, exclusive concourse areas and the opportunity to purchase parking on-site.
A limited number of Club Seats are available. SSLs for Club Seats range from $15,000 to $80,000 and accompanying season tickets are $375 per game, locked in for three years.
All payments made under the SSL agreement, including any finance charges, will be treated as refundable deposits, with repayment from available funds to be made in 50 years.
This last part is in direct response to the Rams losing their case against St. Louis season-ticket holders who were still owed games or compensation when they bolted to LA. 'Oh, you'll get your money back, when I fucking say so.' This whole run is nothing more than bonus advertising to sell real estate, something Stan Kroenke is quite familiar with.
---
In conclusion: The LA Rams – don't hate the players, hate their organization's games.