Reclusive, vulgar Broncos fan.Also a proud fookin' Evertonian.Likely dropped on my head repeatedly as a small child.[Insert George Carlin quote followed by thoughtful nod.]
Latest posts by King Hippo (see all)
Everton drew shit-ass Palace last week, while I was in Colorady.  Yes, I got up super early to watch.  No, I am not all angry about this.  Everton got an away point, despite being forced into TWO changes – Andre Gomes (see later) injured, then DM Morgan Schneiderlin sent off in the 75th minute.  Plus, we finally have a long-term plan in place.  And I love it.
Not every club is led by a Director of Football, but every modern club really should be.  Like with NFL coaching/GM duties – there just aren't enough hours in the day to keep track of it all.  I'd say it's even more so in Lesser Footy – as everyone in the entire fucking world plays it (and unless you are at one of the 10 or so mega-clubs, you need to scour the ends of the earth for talent).
Sexy fucker Marcel Brands is Everton's DoF, courtesy of PSV Eindhoven.  While Brands was there, he had his club nosing ahead of Eye-Axe.  You know, that shock Champions League semifinalist of 2019.  He knows his shit, he doesn't buy players just because they're famous (good luck with Everton reject Steve Walsh, Man U. – you're gonna need it), and he drives a hard bargain.  Most importantly, he has allowed the Toffee faithful to dream big again.  When the new Bramley Moore Dock stadium opens in 4-5 years?  Watch the fuck out.
Andre Gomes merits mentioning, too.  Just because he's so fucking good looking.  Barca couldn't stand this guy, and I have no idea how that could be.  He's likely out for the home opener with an ankle knock.  But paired with holding midfielder Jean-Phillipe Gbamin (see header pic, with Brands), Everton will have the best-looking midfield two in the Premiership.  Get well, Andre!
Our good imaginary buddy Balls done got you covered on the matches – so Hippo keeps it short and sweet.  After Everton hosts the Moose Hornets in the 10a window (EST, NBC Gold), all eyes will turn to Spurs and City on big NBC.  Nobody in their right mind predicted Spurs any lower than 3rd position in the table – but Spurs are +739 to win, +423 to even draw.  That's fucking bananacakes, but who is bold enough to wager against Pep's Lesser Footy Machine?
Enjoy the action, everyone!
/ok, one for the gentlemen – Lauuuuura of the Everton women's team:
***
Balls' Piece O' the Action
Some of you may have noticed that Barça  lost 0-1 to Athletic Bilbao at the San Mamés. Allow me to say a few things:
1- If you ever get a chance you attend a game at the San Mamés, do so. It's an absolutely beautiful stadium and a great crowd.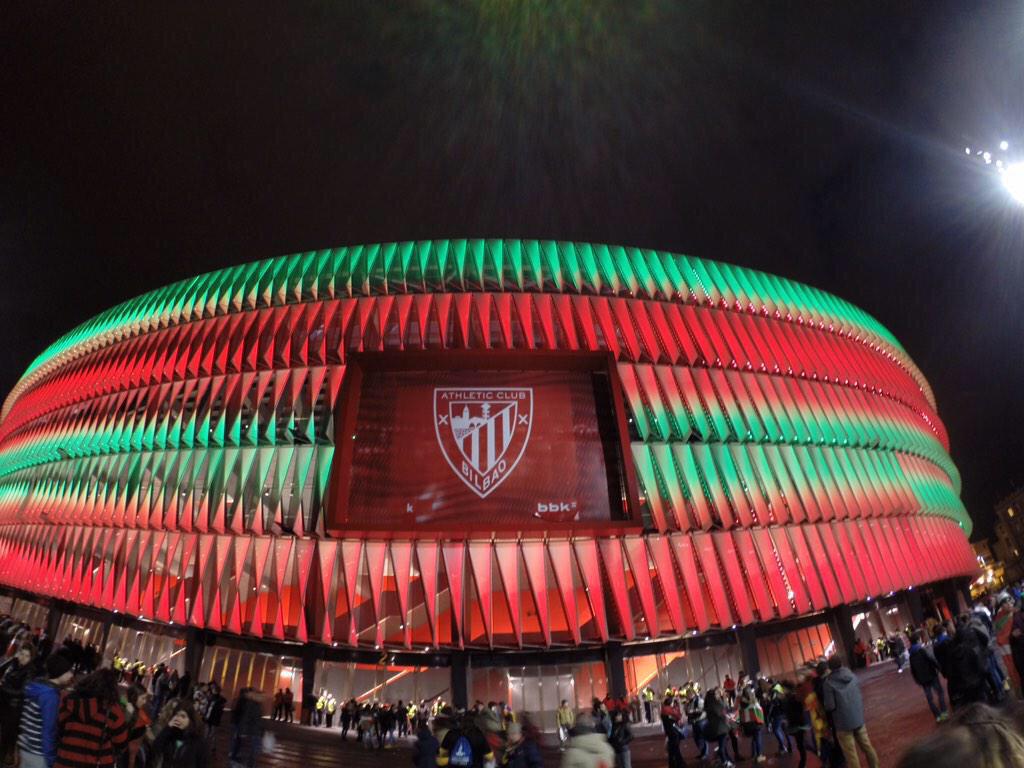 2- If you ever get a chance to attend a game at the San Mamés and have the means to buy VIP tickets,  DO SO! The food and drink are all included and flow freely pre-,  during,  and post-match. It is delicious and worthy of the great Basque tradition of quality and innovation.
3- Messi wasn't playing.
4- Even if Messi played,  it was going to be a tough game. Bilbao are a great home team and their crowd supports them greatly.
5- Anyone freaking out about the loss is not a true culé.  I halfway expected this result and know it's a long season ahead.
6- I'm thinking everyone was prepping for Aste Nagusia:
Litre's obscure team of the week – I am doing this because Hippo gambles on teams from anywhere.
WEEK 1 To Belarus!
BATE BORISOV
BATE is an acronym of Borisov Automobile and Tractor Electronics
Stadium: The creatively named Borisov Stadium. 
I have to admit it is a lot fancier than I had anticipated. When I think of Belarus I think of a poor man's Romania. There has to be a reason for this futuristic design. Built in 2014, holds only 13K. I went to 4! sites to try and see why it looks like this but came up empty.
Obligatory ultras pic;
Located in Barysaw (pop 145K), BATE is hugely successful and are the only Belarussian club to make it to the Champions League Group stage. They won the domestic league last year and as a matter of fact have won the last 13 years. This year they're in 2nd to Dinamo Brest (heh) but they have a game in hand. Their leading scorer is Maksim Skavysh who has 11 goals thus far this season and I have never heard of anyone on this team. Currently they're in the early stages of the Europa League qualification and have a home and home against FC Astana coming up. You can get as good as 4 to 1 to win in Kazakhstan the 1st leg.