Awesome Photoshop courtesy of Low Commander of the Super Soldiers
Ah, the NFL offseason, always filled with optimism, Dan Snyderschadenfraude, and this year, a veritable Who's That? of placekickers taking a ride on the Chicago Bears carousel. Do you remember how last season ended?
I wonder if anyone in Chicago has? Let's take a look at a few choice headlines from this offseason, shall we?
What a three ring circus, or eight rings if you cut up Matt Nagy and see how many rings of kickers are inside. Seems like maybe that last one should be getting more attention than the other issues, but what do I know, I live in California, 2,040 miles away from Soldier Field.
/DOOR FLIES OPEN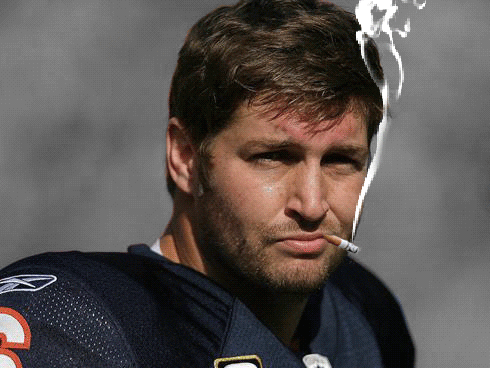 Jay Cutler: Sup, BFC.
BFC: Jay Cutler? Shouldn't you be off filming a reality show with your wife?
JC: Been a rough week on that front, bud. I had to get out of there for a bit. Did you say something about not knowing the sentiment of the fans?
BFC: Yeah, well I haven't lived in Chicago in like 20 years. Are you here to whisk me away to Halas Hall or something?
JC: I'm more whiskers than whisking, dude. I'm more here to remind you that you were in Chicago for the Bears preseason opener against the Panthers.
BFC: Oh shit, you're right. Should I just make this preview a Boots on the Ground?
JC: DOOOOOOOON'T CAAAAAAARE. Do what you want, I'm going to the beach.
/DOOR FLIES SHUT
The Catler Who Couldn't Care Less reminded me, I did indeed partake in some football-like substances on my most recent visit to Chicago earlier this month (I even met Brocky IRL there. I stand by my conclusion that he probably isn't a serial killer). As fortune had it, my brother-in-law had spare tickets to the game, so I went, and clearly it was memorable. Let's BOTG this and see if anything I learned will be helpful for prognostication purposes.
WHO'S UP FOR SOME GRAINY CELL PHONE PHOTOS?!?!?!
It all starts with the approach. We took the blue line in to the red line, grabbed some food and a beer, and then walked to the stadium from the north. That meant going alongside some armed forces insignias and a fountain-like structure as we submerged toward the base of the UFO. It was also Bronko Nagurski bobblehead doll night, but somehow despite being there well before kickoff, we weren't given the piece of paper required to turn in at the station giving away the bobbleheads, and even though there were still a metric asston of them at said station 5 minutes before kickoff, they wouldn't give me one. Dicks.
WHAT DOES THIS TEACH US ABOUT THE BEARS 2019 SEASON:
Nothing.  Except maybe that you can't always get what you want.
Then we ventured to our seats, and got ready for the game to commence. Ohh, starting line ups, that's exciting.
Also fire.  Wait a second is that….
Holy shit, that's Khalil Mack! The whole Bears starting defense got introduced! Am I going to get to see Mack and the D play a series or two?
No, I am not. That's Khalil Mack in a bucket hat, and he wore it the whole game. Same for Akiem Hicks, Leonard Floyd, Roquan Smith, pretty much every Bear you've heard of.  Nagy decided he didn't want to risk injury at all this preseason, so the starters just aren't playing. In the opener against the Panthers, Trubisky took three snaps, handed the ball off three times, and hasn't stepped between the sidelines on a non-practice field since.
WHAT DOES THIS TEACH US ABOUT THE BEARS 2019 SEASON:
To get excited but maybe prepare to be disappointed?
The defense is formidable and looks to start the season healthy, which is great news for the Bears and bad news for the rest of the division. Somehow, Sports Illustrated picks the Bears to finish last in the North, which is complete poppycock, and even they recognize this is the best front 7 in the league. In addition to the aforementioned Mack, Hicks, Floyd, and Smith, Eddie Goldman is a beast anchoring the line in the middle, Danny Trevathan is the real deal, and I wouldn't be surprised if Jonathan Bullard clawed his way back into the starting line up. The secondary's strengths are unquestionably Eddie Jackson and Kyle Fuller, and Prince Amukamara and Ha Ha Clinton-Dix are all legit. Lots of concern about Fangio's departure to Denver, but it's not like he got replaced by a complete goober at defensive coordinator. Chuck Pagano is by all accounts an excellent coach, and the players themselves are largely unchanged or improved, unless you really think Adrian Amos was the second coming of Steve Atwater (he wasn't/isn't). Good continuity from last season, but more importantly, rock solid talent up and down.  This defense should keep the Bears in every game. Unless Mack gets hurt and then we're fucked.
But what about the offense? Again, Trubisky got three snaps and then it was a steady diet of Chase Daniel (whose name is a sentence) and Taylor Bray (who/what?). They didn't move the ball all that well and Daniel remains the guy who continues to get handsomely paid and no one really knows why.
WHAT DOES THIS TEACH US ABOUT THE BEARS 2019 SEASON:
That it's not going to be pretty but might be pretty ok.
Jordan Howard got shipped out of town for a bucket of balls, Truth Biscuit is either ready for a breakout year or he'll end up being a right-handed Cade McNown with a pedostache and some moral scruples about parking spaces. Wide receiver seemed to go from major negative to potential strength with Allen Robinson II/Jr, Anthony Miller, Taylor Gabriel, and now Cordarelle Patterson all in the mix. Tarik Cohen is still here and pictured above is David Mongtomery, a rookie running back out of Iowa that looked fantastic against Panthers scrubs and whomever will replace Luke Kuechly when his brain stem severs on the field. The offensive line was pretty good last year, so naturally the Bears shifted a Pro Bowl center to guard and made a guard the center. That unit needs to stay healthy or all of the rest of this is moot.
But let's talk about the Truth Biscuit. If this team is going to compete for the division, they need to play to his strengths (rolling him out of the pocket, giving him time, not letting him make decisions) and actually let him grow and make reads rather than be a "do what the headset tells you" QB like Goff in the Super Bowl. Jury is still out if he can deliver, but the Bears protected him all last season, and this preseason hasn't been any different. I have no idea if he can be a stud. But this is the year to find out, and if he isn't the Bears are going to waste this awesome defense.
But let's talk about what every fan cares about: special teams!
The Bears went into the preseason carrying two kickers, Elliot Fry and Eddy Pineiro. Presently, they jettisoned the former and stuck with the latter despite Pineiro never having appeared in a regular season NFL game and pressure being all important and everything. Anyway, back to pre-season game one. Not surprisingly, the Bears had a drive stall out early (wooooo, Chase Daniel!!!!). As the kicking team ran out onto the field, everyone in Soldier Field freaked out. I'm not kidding. People were shushing each other before the kick, just to make sure Fry had eerie silence or something. AND THEN THE PANTHERS CALLED A TIMEOUT TO ICE THE KICKER IN A FUCKING PRE-SEASON GAME. Rivera said he did it as a favor to Nagy to help figure out if Fry could handle the pressure.It was bizarre. When Fry made the kick, people went fucking nuts.
Let's take a closer look at that / watch and listen to the video:
This is a preseason game with a kicker who was cut less than two weeks later, and Bears fans celebrated like they had just won a ticket to the non-disgusting version of the Houston 500. Later in the game, Pineiro missed a field goal, and people boo'd lustily.
WHAT DOES THIS TEACH US ABOUT THE BEARS 2019 SEASON:
This team is a psychological mess. Seriously. As noted above, the defense is fucking killer, the offense is solid to good, the punter, long snapper, return men, and special teams cover guys are all good to fucking outstanding, but everyone affiliated with this organization is obsessed with the position Kathy Ireland held down in Necessary Roughness.  Nagy had even said after he cut Fry that he wasn't sure Pineiro was his guy, and the Bears would keep an eye open if anyone came off of waivers over the course of the year. Pineiro went out and kicked a 58 yarder in the Andrew Luck Retirement Bowl this weekend, so theoretically he's safe for a few weeks, and at least the Bears weren't the ones signing Blair Walsh, so it's not all bad?
But really, at the first sign of kicking adversity, everyone is going to panic and that could fuck this team up no matter how good the rest of the squad is.
At halftime, we were treated to youth football, which included one big kid dominating the rest of them, but it was thoroughly entertaining. I still miss the Jesse White Tumblers , but this was entertaining.
WHAT DOES THIS TEACH US ABOUT THE BEARS 2019 SEASON:
There will be entertainment along the way, even when the Bears blow games (like this preseason tilt against the Panthers) or make things frustrating as hell. Mack is still the best defensive player in the league (thanks, RTD and Mark Davis!) and despite the NFL and Rog being fucking evil, it's enough to make me pay attention this year, even if it isn't every week. And they aren't getting any more of my fucking money.
It was a pre-season game, so we left before it was all over, but we did notice something new at Soldier Field this year: large frozen alcoholic beverages carried around on a large apparatus and being sold to already drunk people.
WHAT DOES THIS TEACH US ABOUT THE BEARS 2019 SEASON:
It's going to take some new booze to get through this shit.
FINAL THOUGHTS / ACTUAL PREDICTION FOR THE SEASON
Oh, hey, did you know that this is the Bears' 100th season? Oh, you did because it's the NFL's 100th season and the Bears were a founding member of the NFL so that's fucking obvious but they want to put "Bears 100" and wear weird ugly throwbacks anyway in case you weren't sure?  Cool.  Well, here's how they rolled out the schedule:
Our 100th season schedule.#Bears100 pic.twitter.com/yHoWriRXpW

— Chicago Bears (@ChicagoBears) April 18, 2019
That schedule, opening with the Packers and closing with the Cowboys, Packers, Chiefs and then Vikings at home…woof. It's one of those years that has the potential to go 11-5, win the North, and host a home game…or this team loses all but one or two division games, goes 5-11, and then everyone in Chicago is calling for Trubisky and Nagy to go.  My heart wants 11-5, but I'll go with 9-7 and chokes away a playoff spot in the road finale.  Hooray, football!
Latest posts by BrettFavresColonoscopy
(see all)